CONCERT REVIEW: Peter Case shows roots far deeper than punk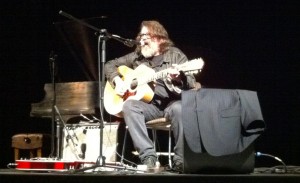 The only sign of Peter Case's punk background was the fact that he wore a denim jacket underneath his pinstriped blazer. That, and some well-chosen anecdotes from back in the day.
No surprise, really: the veteran songwriter has four entire decades of material to draw from – which fans heard just a slice of when the Los Angeles-based musician performed at the Royal Alberta Museum Theatre Friday night as a part of the Winter Roots and Blues Roundup.
The blazer didn't last long. After a song or two, Case folded it neatly over the monitor in front of him. The performance had a casual feel, like we were all just hanging out in someone's living room; Case had his guitars spread out on the floor beside him and occasionally got up to bang out a tune on the grand piano.
Songs like his own Put Down the Gun, May This Be Love (Jimi Hendrix Experience) and Lead Belly's Thirty Days in the Workhouse were interspersed with stories and remarks that had the crowd howling with laughter. His deadpan sense of humour scored with such one-liners as "the free download of that album went platinum" and "Rick Santorum – one of the great minds of the 13th Century."
Even though no Nerves or Plimsouls songs made it into the set, that doesn't mean the audience wasn't treated to any early material. A tale about Case's early years in Buffalo, NY, led into a song he wrote about Woodstock at age 14, with the lyrical sophistication to match. Later, Case talked about practicing piano at a Unitarian church, and performed a number written at 15 and only recorded recently.
At one point, Case read an excerpt from As Far As You Can Get Without a Passport, his memoir of leaving Buffalo for sunny California in the early '70s. He's clearly a storyteller at heart, in his lyrics, his books and his onstage banter.
"Are there any questions?" he asked, referring back to a joke he'd made earlier in the night about growing up with schoolteacher parents. No questions, but a handful of requests resounded through the room. Case happily played them all: Poor Old Tom, love song Two Angels – "The greatest thing that can happen to a musician in 2011-2012 is to have their song featured in a popular vampire movie," in this case, the TV show True Blood – and Icewater, based on a Lightnin' Hopkins' riff.
Case really hammed it up, too – while ending songs, between songs and even during songs. "This is how your rock out in a hotel room," he said at one point. He brought the audience a solid two hours of music and stories, and while a sonic nod to the Nerves would have been welcome, the omission is forgivable – he'll be playing that material for the next two months on the band's reunion tour.
(Read a more detailed Peter Case road story here: Escape from the House of Pigs)