Local trio puts local music scene above becoming rock stars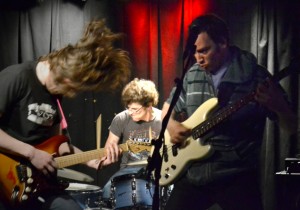 Sure, hitting it big would be nice. That's what all musicians dream of, after all, whether their definition of "big" is stadium tours with U2 or a loyal cult following of Pitchfork readers.
Local grunge trio Diehatzu Hijets is more concerned with taking care of business in its hometown. The band's singer-guitarist Layne L'Heureux says contributing to a thriving local scene is priority No. 1.
"It's not about trying to make it," L'Heureux says. "That would be cool, but it's about strengthening the creative community."
Diehatzu Hijets will drop its new EP "Bros" at the Pawn Shop Tuesday night, Gary & the Quails, Action News Team and Carl For Breakfast warming up.
L'Heureux, who also performs and records as a solo musician and with blues-rock band Wolf Sons, hopes his music inspires budding local musicians the same way other local acts have inspired him.  He knows, as most GigCity readers do, that this city has an endless stream of local talent worth checking out almost any given night.
"Say you're not doing anything Friday. You could stay home, or you could go out to a show and see a great band," L'Heureux says. "When Morals plays in this city, I want to see Morals as much as I want to see Slayer or Iron Maiden or Dinosaur Jr. They're from this town, you can talk to them after, and you've got a $5 show and the calibre is as great as a $100 show at Rexall. To me it's highway robbery that I don't have to pay more to see these bands."
The Bros EP follows Diehatzu Hijets' 2011 full-length "Doo Doo Boy," a chart-topper at CJSR 88.5 FM, with another heavy serving of honest, fuzzed-out alt-rock that would be right at home nestled among Sonic Youth and Eric's Trip in any '90s record collection.
While L'Heureux wrote most of Doo Doo Boy on his own, this one is a collaborative effort with major contributions from bassist Drew Lamb and drummer Adam Prins. The disc was recorded almost a year ago but was held off due to finances – until Whiskey Wagon frontman Landon Barrowman stepped in with his label Dead City Records.
Lyrically, songs like Get Real and Makeshift Sick plow through topics of alienation, transitioning into adulthood, and finding one's self amid crushing pressures from peers and society. "We'll never be what you wanted us to be. We won't run from ourselves," L'Heureux proclaims proudly on the band's flagship song, the song the same title as the band name.
He hopes his words on Bros can boost the morale of listeners who might be struggling with similar issues. When L'Heureux was growing up, he recalls, he found comfort in the messages of bands like Husker Du, the Wipers and Minor Threat.
"If you're a young kid that's faced alienation or bullying or anything, you can probably take solace in those lyrics. I hope so, that's kind of the intention. Or if you get lost through the tradition from youth to adulthood, it's a fuckin' tough transition," he says.
The band's next full-length, which is already mostly written, will do a lyrical 180; the concept album will centre around the conspiracy theory that Paul McCartney died in the mid-1960s and was replaced by a look-alike. Goo goo g'joob …