RESTAURANT REVIEW: Vegan Vietnamese delights at Veggie Garden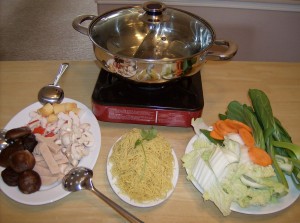 Right next door to where Oriental Veggie House once hung out its cruelty-free shingle as pioneer purveyors of mock meat cuisine in a Chinese style, the Veggie Garden Restaurant (10582 100 Street, 780.757.9060) has now set up shop. The place vends Vietnamese and Chinese delights in which the feature roles are assayed by stunt doubles made out of tofu, gluten, mushrooms and other peaceably sourced proteins, all surrounded by your favourite veggies – and at very reasonable prices, too.
A wide cross-section of people don't dig on the mock meats. Carnivores find it counterfeit, while a certain strain of vegetarian finds even plant material moulded to look like meat intrinsically unappetizing. They should all get over themselves, especially those who would also complain that restaurants don't take enough care preparing meatless food. A place like Veggie Garden is 100 per cent uncontaminated by animal products, right down to the squeaky, spotless, not-leather benches of the brand new booths. There's no possible chance your hosts will slip you fish sauce, chicken stock, eggs or cheese, or plate your tofu cutlet with tongs that were just used to flip a chicken breast.
My co-eater, a committed vegetarian (but not a jerk about it) for a few years now, had no compunction about reliving (without karmic repercussion) the slurpy, multi-meaty pleasures of bún tô: Vietnamese vermicelli noodles tossed with pork, chicken, beef, shrimp or some combination thereof, plus spring rolls, crunchy veggies and fresh herbs – a quenching meal in a bowl. He evoked his bygone love of Pagolac's legendary Number 68, a veritable menagerie of seasoned, grilled flesh, some of suspicious texture and hue, with a wistful sigh.
So obviously that was on. The relative affordability of the appetizer menu – mostly four or five bucks a crack – tempted us to try the green onion-cilantro cakes, shredded potato and jicama rolls, and hot salty crispy tofu. Early on a Friday evening, we had the hostess's almost undivided attention. She graciously guided us through the menu and gave us a heartfelt "Hi!" whenever we were in sight, as though she was glad to see us anew at every visit to the table. That's how you make someone feel welcome.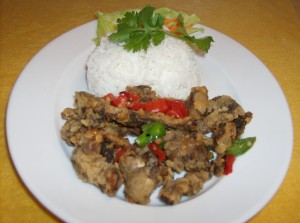 My co-eater dubbed the puffy, crunchy onion cakes the best he'd ever had. They were seamed with bright green herbs that proved they were homemade, and served with a sweet chilli dip. We were never entirely sure that the salad-roll-y things that showed up at our table were the shredded potato and jicama rolls, but we both enjoyed the crunchy bundles of chewy rice wrapper loaded with lettuce, carrots, sprouts and an assortment of savoury flecks that might have been potato or taro or tofu – it didn't really matter. They were delicious and light, even dunked in hoisin dip filled with chopped peanuts.
The pyramid of tofu puffs, golden fried and tossed with salt, black pepper, chillies, carrot and green pepper, promised to loosen a flap of skin from the roof of my mouth, a fate I was unable to avert. I believe the word for the way they were cooked is "exactingly" – not a moment too long in oil that was just the right temperature, so that the end result is clean-tasting and ungreasy. And peppery.
No sooner had we set down our chopsticks than our deep bowls of noodles arrived. So commenced the tossing of the bún tô, the ritual where you pour on the (not)fish sauce, plunge in your chopsticks and toss your noodles with the steaming (not)meats, spring rolls and fresh veggies piled on top. Look for evidence of profusion. Bún tô should look like a bowl of confetti and noodles, really. If anything, Veggie Garden's number 23 looked more multifarious than the carnivorous article, so amply endowed was it with chopped lettuce, shredded carrot, cucumber, sprouts, herbs, and even some fresh peppers, as well as imitation beef, pork and some pink-tinted tofu "shrimp" – oh, and a starch-loaded spring roll. I was not fooled, but I found the not-meat rinds toothsome vectors of lemongrass and garlic all the same.
It was totally filling and a fantastic deal for $8, with the whole bill coming in just over $30. Go enjoy it now before word gets around and the prices go up.
(I was surprised to find after this visit that another, unaffiliated restaurant called Veggie Garden serves vegetarian Indian food to patrons in Mill Woods. Just so you know.)