GLOBAL VISIONS: The Loving Story a touching chapter in Civil Rights movement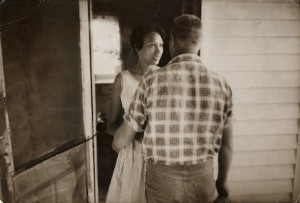 Loving Story is a touching slice of history – director Nancy Burski's tribute to a little-remembered by highly significant moment in U.S. civil rights history, told through the eyes of an interracial couple in the '50s.
Richard Loving had a fortuitous name – he loved his wife, she loved him, and that love beat segregation. It took nine years for Mildred Jeter Loving and Richard Perry Loving to beat segregation. But ultimately, the Loving Story is about the best in humanity, the willingness of a pair of relatively simple small-town folk to fight for their relationship after years of being together. The film shows Sunday at 7 p.m. at the Metro Cinema as part of the Global Visions Film Festival.
The Lovings defied Virginia's anti mixed marriage law in 1958, content that their own small county of Caroline's long history of relative racial harmony – including plenty of other unreported mixed marriages – would protect them. They didn't count on a racist local sheriff making an issue of it. Ultimately, frustrated by having to live out-of-state in the District of Columbia, Mildred wrote to Bobby Kennedy, asking whether new federal civil rights laws could help. He said no, but pointed them to the American Civil Liberties Union, where a pair of crusading young lawyers – seen eerily modern in color film reels, and then later at their elder current age – took their case all the way to the Supreme Court.
The ending of the documentary is poignant, and a little sad, and I won't spoil it here. But one thing should be noted about Burski's excellent retelling of this tale: while harsh attitudes are on display, she doesn't hype the civil rights tension. Quite the contrary. The filmmaker goes to pains to point out that by the 1960s, there were plenty of good folk, North and South, who thought what was done to the Lovings was just outrageous.
A historically important tale, the Loving Story is touching and well worth seeing.
READ MORE GLOBAL VISION REVIEWS HERE: Peace Out, If a Tree Falls, Bhopali, The Other F-Word, Into the Abyss