POP IMITATES ART: Big Time Rush to play Rexall Place Sept. 13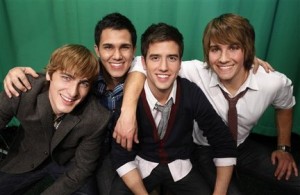 Anyone but Target Market and her parents will probably scratch their heads over news that something called "Big Time Rush" is coming to Edmonton in what is trumpeted as one of the big concert events of the summer. The Big Time Summer Tour hits Rexall Place Sept. 13, with Cody Simpson in support. Target Market will be back in school by then. Some summer. Tickets go on sale Saturday – which is also the night The Big Time Movie, a movie about the band about the TV series, will premiere on the Nickelodeon network.
The who and the what now? Glad you asked. Planned to be a big multi-media teen scream project from the very beginning, Big Time Rush is a popular television show about four hockey players who form a boy band. It's a big hit with teenage girls. It is also the name of the life that imitates fiction, an actual boy band known for such songs as "Music Sounds Better With U," "All Over Again" and "Elevate." The capper to this pop cultural hat trick is the soundtrack to The Big Time Movie – in stores this Tuesday – which will feature several covers of Beatles songs. So to answer your earlier question, this is the sort of cross-promotional mass branding necessary to create a band that can play hockey arenas on its first trip out.
Well played, Big Time Rush, well played.