TRUE TALES OF THE ROAD: Steven Page comes clean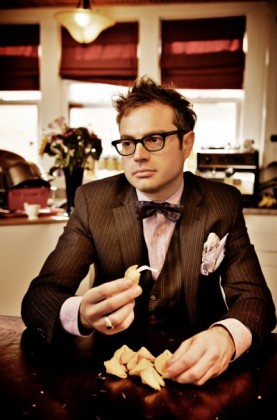 It's hardly worth stopping the presses for a drug scandal in the music business.
Of course the Barenaked Ladies were a special case: cleancut, fresh-scrubbed Canadian popsters whose most popular song referenced Kraft Dinner. They didn't live that scene often witnessed backstage at rock shows: Pot smoking, booze drinking, journalists being asked to leave so the singer could do some coke and didn't want to share. Good times.
So you can imagine the consequences were devastating when Steven Page was arrested for cocaine in July 2008 – a "hellish time" for the singer personally, for the band, for the entire organization that was the Barenaked Ladies. It couldn't have come at a worse time. BNL had just released a children's album. The optics were Pee Wee Herman terrible. Seven months later – and they were already creatively estranged – Page quietly left the band, which continues without him like Van Halen without David Lee Roth. Page – who fulfilled the same function as Roth: over-the-top theatrical humour, "the clown that cries on the outside" in this case – now works solo. He performs Tuesday at the Royal Alberta Museum Theatre.
Now if you think this is going to read like an episode of VH1's Behind the Music … sorry. The only reason we're telling it four years later is because drugs are illegal and Page had the luck to be caught before – if ever – he became an addict. It's still the elephant in the room. He says "the bigger trauma for everybody" came from being arrested, not for what he was arrested for.
"I wouldn't say I was an addict," he says. He wasn't homeless on the street in Vancouver (Chi Pig of SNFU) or working as a lumberjack while he tried to kick heroin for the third time (Hugh Dillon of the Headstones). Page was functional, taking care of his kids, recording, performing, "doing the best shows of my life," he says, keeping his life together as only a touring rock musician can. A lot of rock singers drink quite a bit, too. This is news? You'll find alcohol on almost every backstage rider.
Page points out, "Once somebody gets caught with drugs, everybody brands them a junkie. Somebody gets kicked out of a bar for being drunk and people don't automatically say they're an alcoholic. I'm not making excuses."
One could argue that getting arrested was the best thing that ever happened to the guy. He jokes that he's "drugs man" now, that the media will never let this alone, but that aside from the legal trouble and all the negative attention that came, he didn't like his own behaviour.
"It kind of forces you to either grow up or die," Page says. "I was in a pretty self destructive place, and in the process of taking a lot of people down with me. I don't have good memories of it. I guess what bothers me about that whole time is that I had to have that cataclysm to make positive changes in my life. Obviously I wish I could've done it myself. OK: time to grow up now. I don't think everybody gets to do that, but some of us get to do it in a less public forum."
On top of the break-up of his first marriage (he's now married to the woman he was arrested with), the complicating factor is Page's struggle with mental illness. While takes his various diagnoses – depression, bipolar, anxiety disorder – with a grain of salt, "whatever those things are," he says, "they are great opportunities to learn how to take care of yourself. As a man in your late 30s, it's embarrassing to realize you don't know how to do that. And because it was public forum, well, being a punching bag is one thing. It's not the end of the world. But I got the sense that people expected that I would know how to exist as an adult male, and I think the biggest disappointment for me was that I spent a lot of time trying to project that I had all the answers. There's a certainly degree in humility in being taken down, which I'm grateful for, but it still doesn't make it any more pleasant."
As for the music, even casual listeners of the BNL canon should be able to tell which songs were written by Page and which were written by partner Ed Robertson, even more clearly in recent albums. They were already drifting apart. The scandal was just the shock that set events in motion – hastened by the fact that for 10 months Page had to travel separately from the rest of the band until his drug charges were dropped.
"It was almost like we weren't even in the same band anymore," he says.
Reunion? He doesn't discount the possibility, though he's got a little stump speech for Tweeters to the effect that he'll get back with BNL "right after I get back with my ex-wife and crawl back into my mother's vagina." Draw your own conclusions.
There's new solo music to talk about whose titles alone speak to our thesis: A Different Sort of Solitude, a song about a husband just getting out of jail to reunite with his wife, which Page wrote for a little-seen feature called French Immersion; and perhaps more to the point, a folky love song called Manchild, a tale for professional artists whose wives have real jobs. Sample lyric: "Sweetheart, what do you think I do all day? I make art when inspiration blows my way," and then the chorus: "Darling, you're talking to a manchild now. Speak slowly …"
Co-writer and producer Craig Northey (who opens Tuesday's show) was the one who suggested the song should be autobiographical. Page says, "I told him I kind of didn't want to do any more self-deprecating stuff, but, well, you're bang on."