Dining downtown not what it used to be – and thank goodness for that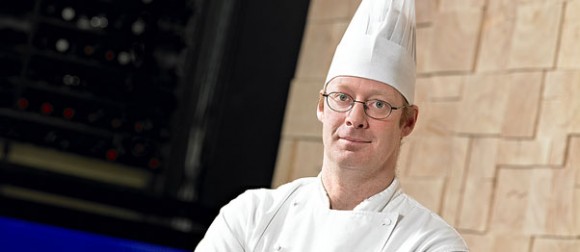 There was a time not that long ago when dining downtown meant having a clubhouse with fries at Hawkeye's before a movie at the Paramount Theatre.
Not anymore. While I would give just about anything to have the Paramount back, it's hard to argue with the allure of 27 top-flight restaurants showcasing their virtues with specially priced menus to give the veteran and the uninitiated alike a reason to venture into Edmonton's formerly moribund urban core. Downtown Dining Week rages unabated until March 11 in venues ranging from the ridiculously priced to the sublimely decadent .
The kick-off event was a couple of Fridays back in the lobby of the Art Gallery of Alberta where, beneath local artist Dara Humniski's imposing yet somehow delicate 2-D monoliths, a handful of participating kitchens offered a sneak preview of their special fare, priced to move at $15 (for a two-course lunch) or $25-50 (for a more elaborate evening feed).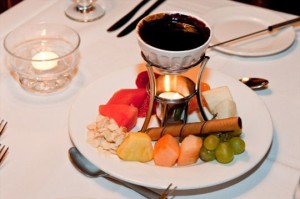 Previous endeavours to promote local eateries tended to sell short their distinctive qualities, in effect steering newbies clear of a given restaurant's menu-based strengths in favour of more generic, more-bang-for-the-buck specials that were strictly for the tourists. Not so Downtown Dining Week: take for example Lit Italian Wine Bar's offerings for the occasion, which are also both regular features of their sharing-oriented menu – morsels of creamy bocconcini ensconced in slices of pan-crisped bacon and served with a drizzle of fresh-made pesto, alongside samples of their sumptuous macaroni and cheese embellished with al dente orts of lobster, topped with tranche of rare heritage Angus beef.  Nearby, Hundred Bar & Grill was doling out samples of their steelhead salmon tacos with apple kimchi, fresh cilantro and bean sprouts.
On and on it went, the ravishing of tastebuds, from Wildflower Grill's lipsmacking mesquite-grilled hickory ribs with BBQ baked beans to Zinc's smoked salmon and caviar perogies (created by executive chef David Omar, top picture), to The Creperie's crepe glace au chocolat – Callebaut by name – with French vanilla ice cream. I barely made it out of there with my trouser button intact. Visit the Downtown Business Association's website to peruse restaurants – and their menus – participating in Downtown Dining Week.
* * *
Elsewhere downtown, satellite outlets of some beloved Southside food purveyors have sprung up recently. After what seems like months of portending its arrival with a big yellow awning where the former Healthfare briefly did business on the corner of Jasper and 103 Street, beloved campus hangout Remedy, helmed by gregarious entrepreneur Sohail Zaidi (aka Zee), has finally opened its Northern chapter to bring Kashmiri chai, masala dossa and various subcontinentally themed wraps to the brown-bag crowd. Remedy further threatens to liven up Jasper Avenue with extended evening hours, local art, live performances, and the provision of requisite adult beverages.
Head further west along Edmonton's storied downtown corridor and you'll find another instance of Café Beirut, the founding location of which has been a welcome addition to Whyte Avenue's tight cluster of cafés west of 108 Street. Proprietor Sam Tabet is no newcomer to the local food scene, having proven his mettle vis-à-vis Middle Eastern eats over two decades in Edmonton. While the Southern Café Beirut cultivates a casual, counter-service vibe, the downtown Café Beirut offers a more elegant setting in which to enjoy a more extensive menu that showcases Tabet's mastery of fine Lebanese cuisine, including farouj bil freki (stuffed Cornish hen in pomegranate sauce), assaffir (grilled quail), a rainbow of kabobs, rack of lamb and even lobster.
I have yet to visit the downtown location, but the simpler charms of the Southside Café Beirut have more than established Sam's immense pride in upholding Lebanon's rich culinary traditions and its national reputation for hospitality. Herbivores would do well to note the extensive slate of meatless and vegan options available at both locations.