Musical theatre invasion continues with Mary Poppins, Rock of Ages and Billy Elliot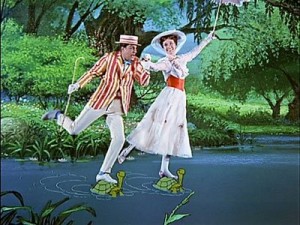 Chim chiminey, chim chiminey, chim chim cheree, a sweep is as lucky as lucky can be – and that's what musical theatre has done to popular culture: a clean sweep! Thanks a bunch, Bono, South Park dudes, Glee, Steven Spielberg, Green Day and lest we forget, Cats!
Segue gracefully to the big announcement Wednesday that a trio of blockbuster touring musicals is coming to Edmonton, presented by Broadway Across Canada. The first is Mary Poppins, on stage at the Jubilee Auditorium July 24-29. Sadly, news also came Wednesday that man who wrote many of those memorable songs, Robert Sherman, died at the age of 86 – adding poignancy to he and his brother's memorable ditties that include A Spoonful of Sugar, Supercalifragilisticexpialidocious and of course the famous chimney sweep anthem Chim Chim Cheree. All will be heard in this touring Disney production, where you should also expect first-rate Broadway-style special effects.
Next on the sked is Rock of Ages, Nov. 6-11 at the Jube – a musical comedy featuring the music of Journey, Night Ranger, Styx, Reo Speedwagon, Pat Benatar, Twisted Sister, Poison, Asia, Whitesnake and more – is it really necessary to add the word "comedy?"
Finally into the unimaginable future of 2013 comes Billy Elliot, the Musical – at the Jube March 19-24, 2013 – based on the film about a working class British boy who becomes a ballet star despite his eventually supportive father exclaiming, "Ballet ain't fer lads!" This wasn't a musical to begin with so it will be interesting to hear the songs they came up with: The Stars Look Down, Expressing Yourself, Born To Boogie, Angry Dance, Merry Christmas Maggie Thatcher and more – the imagination reels at the possibilities.
Tickets and season passes for all three shows will be going on sale April 23. For more information, visit the Broadway Across Canada website here.