WEEKEND MUSIC PREVIEW: Puscifer a Tool with a punchline
Posted on March 8, 2012 By Michael Senchuk Music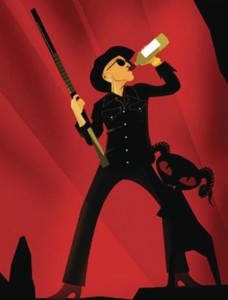 This weekend's live music offerings feature a little bit of everything, from a Juno Award-winning folk songstress (Amelia Curran on Saturday), to a rapper all the way from Pittsburgh (Mac Miller, right, on Friday), to one of Vancouver's best indie pop bands (In Medias Res, Friday) – and of course ther's another record release, this time from a band called The F***ing Lottery.
Friday
Speed Control – This pop-punk band is actually from Whitehorse, though two of the members met while in the University of Toronto's Jazz Performance Program. Warning To Avoid and The Autumn Portrait also perform. Haven Social Club, 8pm, $10.
In Medias Res – This Vancouver duo played to stellar reviews at last year's Sled Island Festival, and had one of the year's most under-rated albums in all of Canada. The band was spectacular last fall at the Haven; playing this weekend at the New City Compound should suit its vibe even better. 8 pm, $10.
Randy Graves – A metal band with their roots firmly settled into southern classic rock – how can that not be entertaining? Especially with a trio of other somewhat like-minded bands for an evening at the Pawn Shop – including The Great Valley, Dusty Tucker and Fight Fair. 8 pm, $10.
Mac Miller – Edmonton doesn't get a lot of touring rappers, so fans of the genre should definitely take in this Pittsburgh artist formerly known as Easy Mac – headlining a show at the Edmonton Event Centre. 8 pm, $36.50 and up.
Zerbin – This former Sonic Band of the Month performs headlining duties at the Brixx, along with From Love To Forfeit and Vancouver's Cruel Young Heart.
Saturday
Pizzarrhea! – With undeniably one of the best band names in the city, this electronic-experimental band headlines the early show at the Pawn Shop. Energetic Action and AgapeRAYGUNExperiment also perform. 6 pm, $8.
Amelia Curran – This folk songstress, right, hails from Halifax; she now has five albums to her credit, and won a Juno award in 2010 for Roots and Traditional Album Of the Year: Solo. If that wasn't impressive enough, Curran is also a playwright and actor, and has had some of her works performed at various fringe festivals. Caracol and Trevor Tchir open. Royal Alberta Museum Theatre, 7 pm, $22. Tickets here.
Puscifer – Although originally intended as an outlet for the solo work of Maynard James Keenan (Tool, A Perfect Circle), he's included a cadre of great names in various musical scenes throughout the two studio albums, two EP's, and three remix albums that have been recorded. Carina Round opens. Jubilee Auditorium, 8 pm, $29.50 and up. Tickets are still available.
The Fucking Lottery – This hardcore group comprised of local veterans are the feature of this weekend's release party, and they have some extraordinary company for the evening, with Slates, Bayonets!!! and Desiderata also performing. Wunderbar, 8 pm, $10.
Visit New Music Michael for more music news