Media celebrity Mark Scholz to prove his musical mettle in Blue Montegos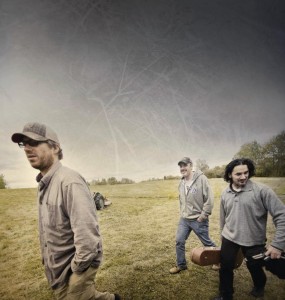 When faced with a media celebrity in a band expecting to be taken seriously, some observers cross their arms and frown and say things like "OK, Mr. Bigshot, this better be good." It comes from the feeling of the unfair advantage that all non-musical celebrities have: an already established name airlifted into a comparable level in the music business without having to pay certain necessary dues. Was Tim Robbins really that good at the folk fest or were we all just suffering from wish fulfillment delusions? He was OK. The same complaint is of course levelled at American Idol contestants. Almost all them suck, and even when they don't – they do.
In Edmonton, it turns out that media celebrity Mark Scholz – who made his fame as the co-host of the Big Breakfast morning show back when Citytv was the A-Channel – is a Berklee-educated drummer. Just a year, but then they say that a year on the road is worth five in a music college, or maybe it's the other way around, even one as prestigious (and expensive) as Berklee College of Music in Boston. The guy can play, anyway. His rootsy-rock band Blue Montegos hosts its debut CD release party at the Yellowhead Brewery on Saturday night. The album was recorded "live off the farm" during a bucolic sojourn at Hayloft Acres East of Edmonton, which accounts for its "rustic" sound.
The band is getting tons of attention for its impending coming out party, which is already sold out: They win the broadcast triple crown of being on Breakfast Television, CTV and CBC, at least, and then there's all the press. Most local bands doing CD releases in this town don't get this kind of media coverage.
OK, Mr. Bigshot. This better be good.
Judge for yourself, Scholz says. Having pre-existing fame can help one break into the music business, he says, but adds, "You might get one break, but if you suck, you're done … If you take all the people who already have some sort of public profile going into music, I'm sure it doesn't hurt in gathering attention, but it always comes down to what you do musically." He understands why people are wary, "But really, you're only as good as your last show, at the end of the day. Besides, I don't really have a big name."
Well, "hey, it's that guy from TV" is better than nothing.
The roots of this band are deeper than mere media celebrity. Scholz grew up in Nova Scotia with guitarist Rod Were, whose father owned a 1964 blue Mercury Montego that carried impressionable passengers at unsafe speeds down the back roads of Nova Scotia while blasting music by bands like CCR and the Band, seatbeltless, of course. A formative memory. Rounded out by token Albertan Tim LaRiviere on vocals, the band – and many others like them – would like to commandeer the term "Canadiana" to refer to any music that sounds like "Americana with a Canadian theme." The NFB, Margaret Atwood, Mel Hurtig and the rest of the Canadian lit and history crowd can just find themselves another word.
It all started with music for Scholz. After Berklee, he worked improv stages and dinner theatres in Halifax, and started his TV career on the local station, including a stint on a children's show. He "wound up in Edmonton" with buddy Steve Antle and in 1997 they became one of the greatest buddy-comedy duos ever seen on Edmonton television. After his time on original Big Breakfast ended (not before spawning the Big Breakfast Boogie Band, which still gets the occasional gig), Scholz did three years with CBC and is now on his own as a freelancer. How full circle of him: Music brought him here, and now he's going back to music.
Scholz sums it up, "A bunch of 40-year-olds have started a band and we're going take a crack at it and see where it leads us. The adventure is just as wonderful as anything."