Brent Butt comes back to stand-up comedy – June 22 at the Winspear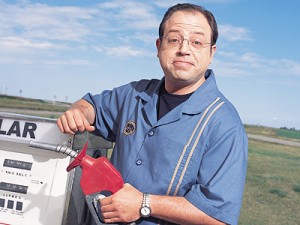 Before Brent Butt went on to star in the modern version of The Beachcombers, he was a happening stand-up comic – and like most happening stand-up comics who make it big, he always seems to come back to his roots.
The star of Corner Gas and CTV's Hiccups will hit this road this spring for a series of stand-up shows across Canada. Butt performs Friday, June 22 at the Winspear Centre. Tickets go on sale Friday at 10 a.m.
As far as we know, Butt has never "worked blue," not for any moral reasons, but because his genial, gimmick-free, low-key style of observational humour just doesn't work with cuss words, aside from the odd "damn." Call him old-fashioned, but this guy came up the ranks in the usual way: Worked his way through the clubs, did the Yuk Yuk's circuit, moved up to theatres, came up with a cool idea – a sitcom based in a gas station in small-town Saskatchewan similar to his own hometown Tisdale, where he figures he would've ended up had he not become a comedian – and the rest is history. Millions of Canadians fell in love the quirky characters at the Dog River service station, and while Corner Gas ended production in 2009, it lives on in reruns, becoming almost as much of the Canadian cultural fabric as Kids in the Hall.
There are more projects, including feature films, for the award-winning comic, but he's been a stand-up guy the entire time – and probably always will be.