WIN: Tickets to Plants and Animals March 27 at the Starlite Room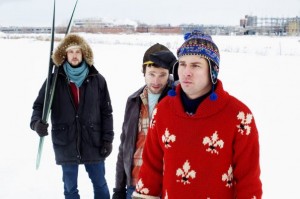 Oh, Montreal – always so cool, always on the cutting edge. If Quebec secedes, please stick with Canada, won't you? Maybe we could build a wall in the middle of the city or something. Just trying to help here.
Canada's coolest city comes up again because one of Canada's coolest new bands that happens to be from Canada's coolest city is coming to Edmonton to play one of our coolest clubs. Key word here: Montreal.
At the Starlite Room March 27, Plants and Animals has a full, rich sound of rockin' goodness of a somewhat Arcadian Firey feel – the Arcade Fire of course being the kings of the neo-Montreal rock scene – which is amazing because they are only three guys. (The Arcade Fire has 24 members; little known fact.) Plants and Animals took the world – OK, Canada – by storm with its critically-acclaimed album Parc Avenue, earning the guys Juno nominations and a spot on the short list of the Polaris Music Prize. The latest record is hot off the presses, The End of That, which has to be one of those self-unfulfilling prophecies in that this is just the beginning. Plants and Animals could quickly become a big deal – another big deal from the City of Cool. Montreal, nous sommes si jaloux!
You want to win a pair of tickets to the show? Of course you do. Simply answer the following question designed to test your Googling skills and you could be a winner: Plantae and Animalia are but two of six kingdoms in the taxonomic rankings of living creatures on Earth. Name another one and you could win. Email your answer HERE and please include your full name and phone number, which will not be published. The winner will be drawn randomly from all correct entries received by Wednesday, March 21 at noon.