WEEKEND MUSIC PREVIEW: St. Patrick's Day a good excuse to drink
Posted on March 15, 2012 By Albert Smith Music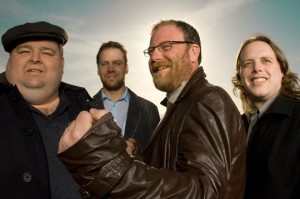 Let's think of other cultures whose stereotypes we can hang a day on like we do as an excuse to get drunk with the Irish on St. Patrick's Day. Better yet, let's not. No sense letting political correctness get in the way of a good excuse to get drunk.
Besides, as prominent local Irish person Terry Wickham (folk fest producer) said last year around this time, "I get more offended by DJs trying to do an Irish accent. But if people need an excuse to drink, fine." Hear that, DJs? Don't brogue if you know what's good for ya. But go ahead and have a drink. Anyway, canny locals of even non-Hibernian descent may notice an extra touch of Irish to this weekend's musical bill o' fare.
Friday
Quartered – Described – by themselves – as the "new face of Vancouver," this metallic fivesome is touring across Canada this spring with selections from its full-length album "The Falls of Autumn." Opening the show will be All Else Fails, Jezibele and Eternal Prophecy. Haven Social Club, 8 p.m., $10.
Quartette – Each member of this award-winning folk foursome is a musical powerhouse in her own right. Together, Cindy Church, Caitlin Hanford, Gwen Swick and Sylvia Tyson (yes, Ian's ex) are an unstoppable force of nature. Festival Place, 7:30 p.m., $28-$32
One Way State – What weekend would be complete without a local CD release event? None of them, of course. At the Brixx Bar, this straight-ahead rock band releases "The Right Time," whose title track is a veritable anthem of rock 'n' roll musician empowerment. 9 p.m.
Shanneyganock – These guys make Great Big Sea look like a small pond, well, maybe a good sized lake, OK, a bay. Never mind. Just say that this quartet of sturdy lads is as proudly Newfoundlandian as any band from Canada's colourful province whose roots are shot through with Irish. Can't really miss for St. Patrick's Day. Century Casino, 7:30 p.m., $30
Scenic Route to Alaska – Any Sonic Band of the Month is worth a look, and these guys (February SBOTM), while they play in town a lot – maybe it's time for a little road trip to live up to their name? – has a tasty, high energy style of folk-rocking goodness that makes it another perfect band for the St. Patrick's Day weekend bender. Opening the show will be Viking Fell, Dead Red Pine and Marlaena Moore. Wunderbar, 8:30 p.m., $10
Saturday
Fire Next Time – These local lads pound out a pungent fusion of punk rock and Celtic folk with fiddle. They put it best in their own bio: "Sometimes we have beards. Sometimes we don't. We put out folk records and perform punk rock shows. Blow it out your nose." The openers are Jim Cuming and the Rising of the Moon, Swear by the Moon and, blowing an all moon support slate, Rusty. Wunderbar, 8 p.m.
Lady Antebellum – Are people who know what the word "antebellum" means likely to be fans of this Nashville band that's been burning up the hot country charts? Sure they are. It means "pre-Civil War America" and there are no political overtones here beyond it being a cool word for a band name. Darius Rucker (former Hootie and the Blowfish) and Thompson Square opens. Rexall Place, 7 p.m., tickets at Ticketmaster.
Electric Six – In the vanguard of the fairly new "dance rock" revolution, this Detroit sextet (hence the name) blends so many different things it's difficult to pick them all out: Rock riffs, soul grooves, disco mojo, you name it. The band is touring behind its 2011 album Heartbeats and Brainwaves. Bend Sinister and Cygnets open. Starlite Room, 9 p.m., $16
Order of Chaos – Nothing says St. Patrick's Day like a good metal band, unless it's a good Irish Celtic band, but never mind. The Pawn Shop hosts a hard rocking take on our favourite drinking holiday, also featuring Face First and Enemy Surplus. 6 p.m., $10
Govinda – Filling the letter of the law "if you're going to be from Texas, you better have a fiddle in the band" if not the spirit comes this cat from Austin, Texas who started on violin before he fell in love with electronic music. The results have been heard in TV shows and in the hippest dance clubs around the world, and of course we have yet another perfect live act in Edmonton for the occasion. Avenue Theatre, 8:30 p.m., $25
Bluebird North – Another powerhouse roots bill features Ron Hynes, Catherine MacLellan, Dave Gunning and Madison Violet in a show dubbed the St. Patrick's Day East Coast Kitchen Party. Minus the actual kitchen. Arden Theatre. 7:30 p.m., SOLD OUT
Caladh Nua – A new Irish band with a propensity to mix traditional Irish songs with modern styles, Caladh Nua – which means "new harbour" – is touring Western Canada for the second time, behind its latest album, Next Step. Festival Place, 7:30 p.m., $28-$32
Celtic Fusion Illusion – Ever heard of an Irish big band? The Druid, one of numerous area Irish pubs that will be hopping this weekend, hosts this local outfit that consists of 20 members of the Edmonton Drum and Pipe Band backed by a rock band and three singers. Don't expect to hear a rendition of Lush Life. Live entertainment runs all day; Celtic Fusion Illusion on at 10 p.m.