PAINTING WITH WOOL: St. Albert textile artist has no time to make rug for the Queen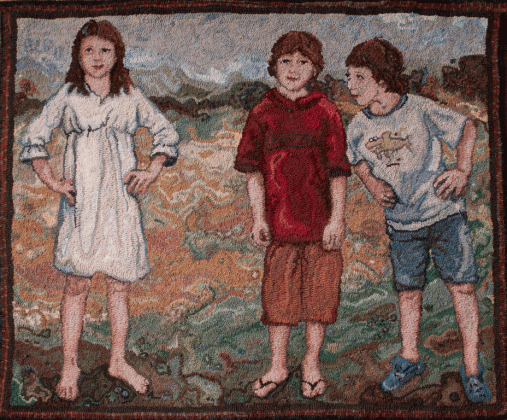 Imagine being textile artist whose rugs are in such great demand that you have to turn down the Queen of England.
That was the situation that St. Albert's Rachelle LeBlanc found herself in just a few weeks ago. A group in England asked for her help making a rug for the Queen's diamond jubilee. Celebrities, including Queen guitarist Brian May, had already donated materials for the rug. LeBlanc's job was to design a Canadian element that would be incorporated into the overall piece.
Then she got a letter from Canada Council informing her that she had been awarded a grant to stage her first solo show. It is to open July 14 and run for a month at the Multicultural Centre Public Art Gallery in Stony Plain, and there are several pieces she must complete for it. On top of that, she's already agreed to teach rug hooking courses in Vancouver in April and Seattle in May.
There simply wasn't time to do it all – so she abdicated her duties on the rug for the Queen.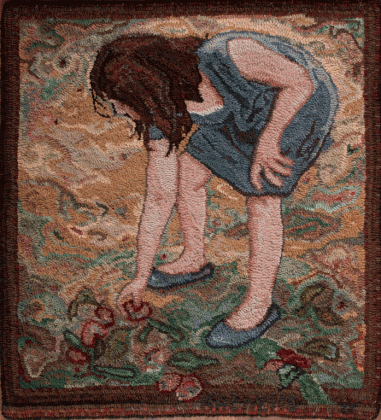 "I know it's a missed opportunity," says LeBlanc, a former fashion designer who moved to Alberta from Quebec with her husband and two daughters in 2008. "But they couldn't guarantee that the Queen would even see this. I couldn't commit to something for a month free of charge if it was going to be put in a library."
The royal rug is still a cool project even if it wasn't a paying gig. Initiated by Wearpurple, a UK arts group for pensioners, all of the celebrities donating fabric for the rug have a connection with the Queen. May, for instance, performed God Save the Queen on the roof of Buckingham Palace for the Jubilee in 2002. Fashion designer Vivienne Westwood, meanwhile, who is often called "The Queen of Punk," received an OBE (Order of the British Empire) from the actual Queen in 1992.
LeBlanc, who's only been hooking rugs since 2003, says the organizers contacted her out of the blue last year. She's not sure how they heard of her. She speculates it was through word of mouth, which is how she sells most of her pieces. She was working on ideas for her contribution to the project when she got the news about the grant. Specifically, it's $9,000 from the Alberta Creative Development Initiative, which is funded jointly by the Canada Council and the Alberta Foundation for the Arts, and it will fund six separate pieces. It's a big deal for the rug hooking community, she says, a medium that does not typically get grants.
The Queen's rug must be finished for June, which is when official Jubilee celebrations happen in Britain. Hooking a rug – just one rug – can take a couple of months of full-time work, so LeBlanc says she had to make the upcoming show her priority. John Maywood, curator of the Multicultural Centre Public Art Gallery, says the response was positive when there was a small display of LeBlanc's work last year in a shared space. He's expecting even greater enthusiasm for her larger, solo show.
"Fibre art is always popular. I think it's because people think they can do it," Maywood suggests about the appeal of the rugs. "A lot of women do this, knitting, but the trick is having a design, and that is where the art comes in."
It's hard to imagine making something so beautiful yourself. LeBlanc's rugs, which can be up to 90 inches long but are typically about half that, are made of wool and cashmere fabric strips which she dyes and then hooks onto a linen canvas. The images – babies sleeping, children playing, apples on trees – are dreamlike because the loops of fabric don't make solid lines. They're almost fluid, changing as you look at them.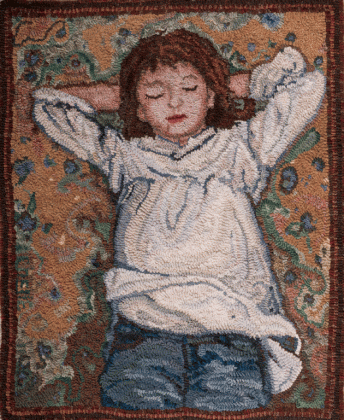 LeBlanc says a lot of people associate rug hooking with the shag rugs that get made as crafts projects in schools. She, on the other hand, identifies herself as a fine craft artist who uses rugs as her medium. Painting with wool, she calls it.
Born in New Brunswick, LeBlanc's older work features her family in the landscape around their home near Montreal, which is where the apple trees and the rolling green hills come from. Her newer work reflects her Alberta home, and has big skies and canola fields. Her daughters are also older in the newer pieces.
After designing clothing for a number of years, LeBlanc says she became interested in rugs after visiting a museum in Vermont that had rugs in its gallery. A how-to book on rug hooking from the 1960s was in her local library and got her started, along with a latch hook from her mother-in-law and some cashmere from an abandoned coat project. She now gets more requests for pieces than she can handle, she says, and much of her work sells to collectors in the U.S. Each rug requires thousands of loops, and lots of patience.
"I tell my students it's going to be ugly until it's done," she says. "But I like things that take a long time. The whole uncertainty, that's what I love."
Hooking, she says, has a rich history in eastern Canada, and judging by her sales and interest in her courses, it appears to be growing in popularity out West, too.
She says the organizers of the rug for the Queen were understanding when she told them she wouldn't be available. Maywood, meanwhile, jokes that he hopes Leblanc's's business isn't too good. At least, not until the exhibition.
"I hope she hasn't sold everything," he says.