THEATRE REVIEW: God of Carnage a comedy of bad manners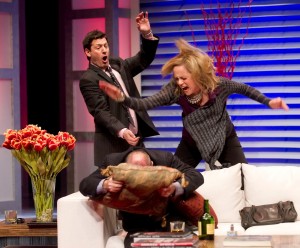 Remember how Seinfeld pimped itself as a "show about nothing?"
On reflection, we can all realize what a lie this was. Seinfeld was the new rulebook of etiquette for the upcoming millennium. The comic deceit, however, is that this new book of etiquette was being written by four people who were the most oblivious to others' feelings. Furthermore, these four all lived in New York, the obnoxious capital of planet Earth. That's something. Etiquette operates on the simple premise that society works best when we take the time to show others respect and consideration, and we should be concerned as we all slowly watch the slow erosion of these societal tools in real life.
Now imagine every book about politeness being opened up and then thrown out the window – and you have God of Carnage in a nutshell. Yasmina Reza's well-known play runs through April 1 at the Citadel Theatre.
Two boys (Ben and Henry) have a schoolyard fight. Ben called Henry a "snitch" and Henry responded by picking up a stick and knocking out Ben's teeth. Ben snitches on Henry and now the boy's parents gather to prove to themselves that they are above all this savagery and can resolve this and any conflict in an evolved and civilized manner.
The cause is not helped in any way when Ben's dad Michael (Ric Reid) calls himself "a fucking Neanderthal." Matters worsen when Henry's dad Alan (Ari Cohen), a lawyer, insists on interrupting the proceedings by answering his cell phone every time it rings, neither asking for anyone's permission nor apologizing to anyone. This rubs Veronica (Fiona Reid) – Michael's uber-liberal social activist wife – the wrong way. And if you know what's good for you, you won't call her "Ronnie."  Compound this with Alan and his wife Annette's (Irene Poole) evasiveness to Veronica's sweetly phrased insistence that Henry should apologize to Ben, or at very least show some remorse and take some accountability over his actions. Everyone here takes slow, seething umbrage to every nicety and even the way in which it is expressed. Slowly the passive-aggression turns to pure aggression and the bile flies – quite literally in one instance.
In theatrical terms, imagine "Who's Afraid of Virginia Woolf?" with two sets of Marthas and Henrys. That's God of Carnage. A better analogy? Imagine a pack of jackals who quickly forget the corpse and instead dine on each other's flanks. Not for the sake of nourishment, but just to piss off the other jackals. In the case of God of Carnage, not even matrimony provides a tacit non-aggression pact that your mate won't hand you your own ass on a platter.
To be absolutely certain, this play is 90 minutes of pure vicarious and cathartic fun. Both Reza and director James MacDonald know how to push the buttons of their audience. Most laughs heard on opening night were bookended by gasps.
In order to fully enjoy God of Carnage, one must make a few leaps of logic. For starters, a little thing: why would a well-heeled couple such as Michael and Veronica pile their books on a coffee table when a bookshelf would serve better? Buy into this one quickly as it pays off so nicely. This next one is harder, or maybe it's just me: As fine an actress as Fiona Reid is, she seems too old to be cast as the mother of an eleven-year-old, despite mention that Veronica and Michael started a family late.
Of course it's not very polite to point these sort of things out, but it's not so much bad manners as basic math. When I was eleven, I was watching Reid play a married woman on "King of Kensington" – and that was almost 40 years ago.