FAVA Fest goes long on top-notch shorts
This is film festival season, of that there is no doubt. This week, however, is hyper local thanks to the infusion of local short-film making excellence that is the Film and Video Arts Fest.
The Festival runs at the FAVA Exhibition Suite (9722 102 St) and Metro Cinema at the Garneau, 8712 109 St. For the Full schedule, click here.
Those we were able to preview were an uncompromisingly personal group of films, as shorts tend to be, each challenging the viewer in its own way. Even the most abstract – a shadow-soaked effort entitled All-Around Junior Male – seems to offer narrative possibility and, at the least, something to think about. The festival features experimental work, narrative shorts, long features, lectures and more.
Here are some short reviews of some of the films in the exceptional FAVA lineup for 2012.
Halloweeniors
A camera tracks around a seniors' home, where all the residents are in costume. It's Hallowe'en, and the filmmaker casually asks each questions about why they like the holiday, and in the context of their pure, unfettered joy, beautifully shot, the answers are deeply revealing without ever being personal.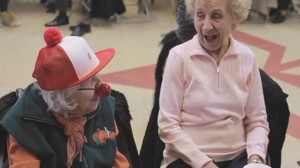 In that sense, Halloweeniors is a slice of community, and the joy it can bring. Although one senior does note that the holiday is "about the little ones", there's just one short shot of a grandchild attending the event. The rest is about what it means to the people there – not because they're infirm, but because they still hold to social and community values that come from a time when simple entertainment wasn't cynically derided, where people trusted each other enough to just enjoy being themselves. The games are simple, imagination dominates process, the jokes are Andy Griffith pure and homespun. They even extend it to a brief discussion of Hallowe'en traditions from their childhoods long ago – traditions that no longer exist as anything more than the barest fond memory.
Seashore
There are fantastic twists in this animated film about getting a second chance, a beautifully written allegory about our need to win, and survive, and offer something. The stylized, hard-edged character of the fisherman adds to its already considerable weight to an amazing piece of work by Carlo Ghioni that stands up to the best animated shorts at the Oscars this year.
  I Want to Love You
One of two music excellent music videos in the lineup, I want to love you is a slice of late 60s Garage Punk, with a single camera tracking around the singer/guitarist in a circle and between numerous go-go dancers.
It's done in black and white, with filters and editing used to give it a genuinely aged feel. The song's not half bad, either.
 All-Around Junior Male
The festival's most challenging short, All-Around Junior Male is a visual arts piece, in that the film is abstract, but it also hints at a narrative, as if someone could take the way we each view a cloud as a different form, then strung them together into a story. Rather the cumulus nimbus, however, the atmosphere is shadow-soaked, a film-negative view of what appears to be a ball suspended from a swinging arm. Or is it? In one sequence, as a man kicks at it and dances around it, it's a hacky sack. In another, backdropping a close up of him looking up at it, it's a meteor or alien craft. There's enough rich tapestry to the interwoven and undefined imagery that it almost begs a narrative structure. Instead, it is what it is: abstract and beautiful to look at, most of the time anyway.
Breathing Empty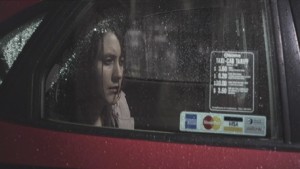 This is a difficult film to review without spoiling things, but suffice is to say it's one of the darkest expositions of the human condition you'll ever see in a short film , a piece of genius that verges on horrifying while at the same time remaining empathetic to human frailty and its oft-dark consequences. That it manages this in just over eleven minutes is astonishing, a tribute not only to Wes Miron's brilliant script and able direction, but also to the raw, emotional and honest performances from Ecko Goffic and Stephen Locke. A warning, however: it is a disturbing film.
'Grimes' Oblivion
The second music video among the shorts, Grimes Oblivion is shot at a football game, a dirt bike contest inside a stadium, and in a men's locker room. The hero here is the cinematography, which wonderfully captures these events' key moments but then renders them as background – even slowing them down to a crawl at times – while the pink-mopped lead singer does her thing. The shots are so nice and the song so pleasant (A sort of David Sylvian meets Bjork waifish experiment thing) it's almost a shame they had the singer lip-sync throughout. It wasn't really needed to add to her presence.
Scape
Scape felt the least accessible of the shorts on offer, an abstract series of film clips that seems to include nuclear test footage, all overlaid on one another, with eleven scrolling lines of verse, each a different language, crossing the screen. Having the entire poem on one line almost forces the viewer to fight their way through to read the whole thing. The film's net effect seems to be to express how unsettling civilization is, but hey… tell me something I don't already fucking know. Geez.