Jake Ian and Haymakers connect with small town Alberta zeitgeist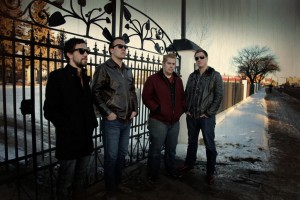 Jake Ian and the Haymakers have proof that life really does imitate art. The local country band was shooting a video for its latest single Lowlife From High River, a catchy tune about a guy who gets ripped off by a used car salesman, when the guys hit an ironic snag.
"We were filming a music video which kind of followed the storyline, and we're using my van as the vehicle in the music video. And sure as shit, the van breaks down right before we needed to film the part where the guy's pushing the van," laughs Ian, real name Jacob Feniak. "So the scenes in the video where I'm pushing the van, I'm actually pushing the van."
Jake Ian will release his fourth album, Sad and Lonely Broken Man, with a show at DV8 Tavern Thursday. Whiskey Wagon and Cory Dee and the Lonesome Three open the show. Cover is $10 at the door, $5 more if you want the CD, too.
The album is Ian's second with the Haymakers, featuring omnipresent "Fat Dave" Johnston on guitar, Ian's ex-PiND bandmate Shane Oranchuk on drums and Tony Mellor on bass, who has since been replaced by Ian's The Depression bandmate Braden Sustrik.
Despite its gloomy title, Sad and Lonely Broken Man is a mostly upbeat country rocker, highlighting the band members' punk rock backgrounds with a pinch of blues and smooth lead guitar. It includes Dollar Bill Blues, a cover of a 1978 song by Townes Van Zandt – who Ian cites as his biggest musical influence – while album closer Southbound Train is a love ballad featuring acclaimed Edmonton songstress Colleen Brown. The lyrics tell mostly fictional tales of hardships faced by blue-collar workers and small-town farmers. Some songs, like the stirring Lost River Binder Pilots Pt. II (the second in a trilogy), are loosely based around Ian's life growing up on a farm in the diminutive town of Warspite, Alberta.
He says, "My dad's a farmer and he needs to leave the farm to somebody, so I know all about that side of it. That's where those songs come from."
Ian works in the city as a teacher these days, as does Sustrik, which makes for ample touring time. After Thursday's release show, the quartet will trek through Alberta and B.C.
"Our summers are wide open. This tour's spring break," Ian says. "We like to do that, always book some shows on Christmas holidays, book shows on spring break and then summer. So technically you get about three months of touring time. That's why I got into teaching, because of the time off."
The band has built a strong following in small-town Alberta, where they're known to get rowdy in packed bars, often playing three consecutive 45-minute sets in one night. It's been a heap of work for Sustrik, who was born in Sherwood Park and was never exposed to crowds like the Warspite folk before joining the Haymakers.
"I'm having a blast," Sustrik says. "It's cool being in a band where they have 30 songs to learn (from the start). That's something I've never done."