FOOD: Southeast Asian home cooking in the houses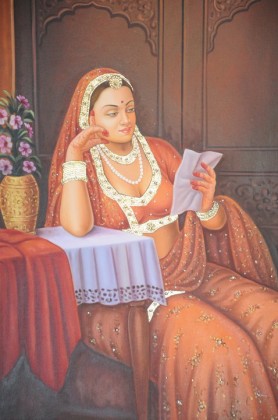 If you're a diner-outer who wants to feel like you're going over to someone's home for a nice meal – albeit one you have to pay for – there are no shortage of choices in Edmonton.
Take, for example, the enclave of fancy manses just off High Street (Manor Café, Violino) or the Ethiopian eateries that look like they've been hastily carved out of someone's living room (Nyala, Nigist) or the guerilla prix-fixe vegan restaurant that briefly did word-of-mouth business in a very funky heritage home on the edge of the River Valley not so long ago.
This past week gave me two opportunities to go door-knocking at a couple of house-based restaurants in the downtown vicinity that trade in distinctive Southeast Asian cuisines. And though the peripatetic nature of the reviewer's lot makes repeat visits a challenge, I look forward to return engagements at both venues to delve deeper into their menus.
The week started with a meal at Bistro India (10203 – 116 Street) to entertain an out-of-town colleague. An Indian restaurant is hardly a rarity around here, but those that specialize in South Indian fare you could almost count on one hand, and that number dwindles to one that I know about on the North side of the river. So while Bistro India indulges your love of butter chicken and other familiar rich, saucy preparations, you can also enjoy southern specialties (with a vegetarian emphasis) like masala dossa (a fragile crepe filled with spiced potatoes and veggies), the steamed dumpling called idli and the hearty lentil soup known as sambar. What's more, the bistro offers a homey, intimate ambience that's not always the rule at authentic purveyors of south Indian cuisine.
I wouldn't pass up a chance to enjoy Bistro India's cauliflower malligae, an appetizer that sees the eponymous vegetable dredged in cilantro and mint, deep-fried to tender-crisp perfection and served with tangy tamarind and coconutty cilantro chutneys. Likewise their version of pallak paneer – creamy homemade cheese smothered in simmered greens and aromatic spices with a hint of fire – is a consistent pleasure, especially with saffron rice and crispy garlic naan bread. Less compelling was the chicken chettinadu, which followed the formula of chicken morsels in a gravy-like sauce – fine for what it was, but not as impressive as some of the mutton dishes I had tried there previously. All was forgiven over a shared dish of cardamom crème brûlée. My colleague found the crème a little too brûlée, but I thought the over-carmelization of the glassy surface in no way detracted from the sumptuous, delicately scented custard underneath. The tab cracked the $60 mark before drinks, tax and tip.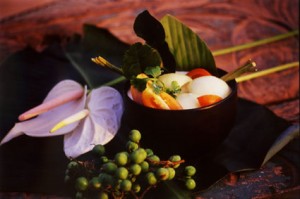 A few days later I found myself lunching at the new downtown location of Viphalay (10523 – 99 Avenue), a Thai restaurant with its original operation near Little Italy that ranks as one of the best of its kind. They've taken over the former premises of Karma, which had itself supplanted a Spanish restaurant that specialized in tapas. Like Bistro India, the new Viphalay offers a cozy, chiaroscuro setting but also has a more open second story well-provided with natural light and, apparently, a buffet.
Thoughtfully, they offer a simplified lunch menu for the downtown business crowd so that you can enjoy a quick meal on a plate for $12-$15, rather than the standard approach of sharing multiple dishes among a group. Red, green and yellow curries with your choice of meat, noodles both spicy and drunken, and the requisite pad thai are all there for the asking.
My red curry looked a little scanty at first, but the helping of tender chicken in pink-tinged coconut milk with bamboo shoots, peas, peppers and onions over coconut rice more than satisfied, tickling the sweet, savoury, spicy and creamy parts of my palate in equal measure. I did not miss a drop. The consensus at the large table I was part of was that the food was uniformly good – the pad thai tangled up with shrimp, tofu and chicken looked particularly appetizing to me – but also that "medium" spice was a touch hotter than non-Thai diners might be accustomed to. Adjust according to your relative timidity.