WEEKEND MUSIC PREVIEW: Delhi 2 Dublin a delicious taste of India electronica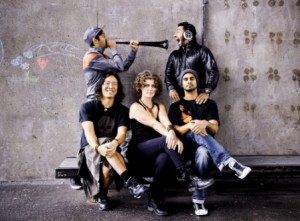 From a surfeit of mainstream pop music of a Hedleyroonian, Pitbullish nature at the hockey arena this week, we face a weekend filled with an astounding variety and quality of live music from all over the world. Dig it.
Friday
Carlos Del Junco – Call it a mouth organ, Mississippi saxophone, lip cannon or a ten-holed tin-can tongue-twister, but whatever, the humble harmonica has rarely sounded better on the mouth of Carlos del Junco. The Cuban Torontonian is touring behind his latest CD, Mongrel Mash, on the heels of his latest Maple Leaf Blues Award for Best Harmonica Player. Might as well just name the award after him. Horizon Stage (Spruce Grove) 7:30 p.m. Tickets here.
Tyler Bryant & The Shakedown (above) – All the way from Texas comes this blues-rock guitar-shredding wunderkind for what is expected to be a fiery show at the Avenue Theatre. Technically no longer a blues teen at the age of 20, Bryant was last here opening for the great Jeff Beck – who doesn't pick losers, so take heed, blooze-rock fans. $16, 8 p.m.
The Wheat Pool – Like the old grain elevators the words in the name of this area alt-country band were emblazoned on, the Wheat Pool is history, having hit the end of a long and dusty road after six years. Of course the talented musicians therein are expected to wow us a second time with their various new projects, in time, but band break-ups are always a bit sad. Tears in your beers may be shed without repercussions at the band's farewell show, at the Pawn Shop. Owls by Nature opens. $10, 8 p.m.
Conjure One – Old school electronica goodness will abound when Ryse Fulber (Front Line Assembly, Delerium) brings his new project to the New City Compound, touring to present selections from the new Nettwerk Records release Exilarch. Comaduster and Cockatoo open. $15, 9 p.m.
USS – The Dinwoodie Lounge in the heart of the U of A campus hosts the return of this popular jungle-rave-dance-folk-cuddle band (their words), whose name stands for Ubiquitous Synergy Seeker, whatever the hell that means. Latest release: USS Approved. Good to know. $22, 9 p.m.
Saturday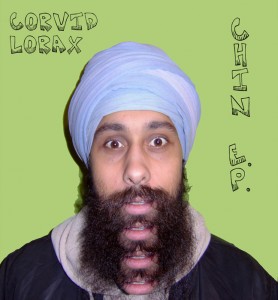 Corvid Lorax (right) – Real name: Karan Singh, once part of Edmonton's answer to Arrested Development: Eshod Ibn Wyza, has since been making his own records. The latest is Encyclopedia Of Insanica – again under the wing of a cool local hip hop-folk rock-anything goes collective whose mastermind producer calls himself Madame Wang. If they put half of their energy into their music as they do their nomenclature, they'd be brilliant. Well, they do, and often are. DV8, 9 p.m.
Acta Non Verba – Speak of the devil and he will come. Speak of Madame Wang and he/she will slap you silly with bomb-tastic, exotic grooves riddled with veins of deep meaning. Madame Wang's real name is Mark Czuba, whose new creatively-named band releases its new CD with a show at the new location of the Naked Cyber-Cafe, 10303 108 Street. Tickets at the door.
Ken Whiteley – The area folk alert status has been placed on code red for the appearance of this venerable Canadian singer-songwriter, who's been making music for half a Century and been decorated more times than grandma's nativity scene: Canadian Folk Music Award, Genie Award, nominations for every music award you can get and not get and be honoured just to be nominated. The man is a folk legend, not to put too fine a point on it. Queen Alexandra Hall, $20, 8 p.m. Tickets here.
Daniel Wesley – Last seen at the happy, shiny, surfy good time that was the Open Sky Music Festival (line-up for this year's event coming soon!), this Vancouver singer-songwriter fuses reggae with rock and folk styles to create a perfect springtime vibe on what is expected to be the last wintery weekend of the year in Edmonton. Royal Alberta Museum Theatre, 8 p.m., $26 at the door. Tickets here.
Delhi 2 Dublin – Combining folk with electronica is nothing new. Beck was one of the first to toy with it successfully, but this Vancouver quintet has added a delicious twist, a taste of India. Really, the name says it all. Seen last summer at the Edmonton Folk Music Festival, the group is touring with a relatively new EP in tow, aptly titled (again), Delhi 2 Dubland. Shamik, Degree and the good old Step'd Up crew will spin housey trax for your entertainment beforehand. Starlite Room, $21.50, 9 p.m. Tickets here.
(Michael Senchuk, who is in Prague checking out punk rock, will return next week.)