QUILTING ROCKS: It's all about the grannies at AGA Refinery Party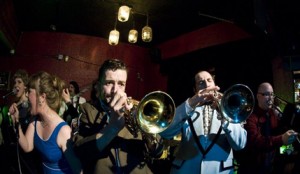 Quilting with granny is not usually on the itinerary for your average hip party – but no average party is a Refinery Party. Saturday night at the Art Gallery of Alberta, the conversational topic over drinks, rock 'n' roll singalongs and various good times shall be the merits of "textile art."
Consider the obvious: Textile art is everywhere in our lives at all times, rugs, shirts, socks, underwear, the patterns on your tea towels – and yet nowhere, not considered a "real" art form and often dismissed as the sole province of needlepointing grandmas. Far from it. We just did a story on St. Albert rug maker Rachelle LeBlanc, whose work is far more than mere "craft."
Jessica Kennedy (below), creative director of the AGA Refinery Party dubbed "Sewing the Heartland," also aims to change perceptions a bit.
"I think it's considered more a craft than an art," she says. "There's that division there. I'm not sure why. I'm not sure if it's because it's traditionally women's work, but I definitely think that textile art in society isn't as prominent as other art. But it's relate-able. Everyone is familiar with it. I think we do take it for granted."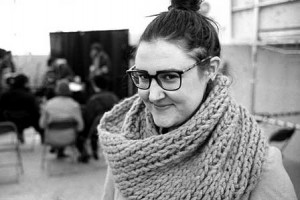 Party-goers will be immersed in the world of fibre art. They'll be encouraged to help make a quilt, each person decorating a pre-cut square with the pieces assembled later, while in cubicles nearby, teams of designers will create and sew together original garments, haute couture live and in real time, followed by a fashion show. Images of people's grandmothers will look on in what we imagine is benevolent approval. Kennedy collected a lot of grandma photos when she ran the clothing store Nokomis (Ojibwa word for grandmother; the store has since closed), where she offered discounts in exchange for images of customers' grandmothers. Three original paintings of grandmothers will also be unveiled on Saturday night.
It's all about the grandmas. You can't talk about the history of textile art without talking about the grandmas.
Says Kennedy, "Turns out they're quite a talented bunch of ladies – besides making cookies."
Live entertainment at the event will be provided by Amy van Keeken's Rock and Roll Sing-a-Long (top picture), which is exactly what the name suggests – live music with a karaoke component. Audience members will also be invited to do several other crafts, like button making and crochet. One thinks of an adult version of all those kids' festivals to which the craft tables are central, and mom and dad wind up having to do the actual crafts.
"Participation is optional," stresses Kennedy. "But I have a feeling that people will want to take part for a little bit, to make their mark."
Do it for grandma. Anything to make her happy.
Sewing the Heartland is sold out. Ticket sales didn't even make it past the AGA membership pre-sale. Time to get a bigger building.