Rockin' the Symphony with Ben Folds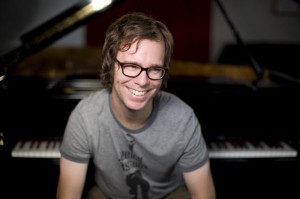 The lone piano player at his Steinway and the large symphony orchestra behind him in an acoustically perfect concert hall is a classic combination in more ways than one – and Ben Folds with the Edmonton Symphony Orchestra is expected to live up to that legacy.
Call it a rock 'n' roll concerto from the modern Elton John.
Thursday's sold out show at the Winspear Centre should be more than the average rock-band-with-symphony pops concert, anyway. For starters, the ESO is easily the rockin'-est orchestra in Canada. These players have worked with a who's who of non-legit, non-music-reading rock stars over the years, and were actually part of the birth of the genre that came to be known as "symphonic rock" in 1971 or so when they recorded the hit album Procol Harum Live In Concert with the Edmonton Symphony Orchestra. Thanks a bunch, ESO.
Conductor Lucas Waldin doesn't like to brag, or maybe he does, "The ESO enjoys playing these types of shows and is much more flexible than many orchestras. The pop and rock artists like Ben Folds keep coming back because they're really impressed by the dedication and intensity of the ESO."
But as with every piece of symphonic fusion, it's the sheet music that's critical to making it work. A lot of travelling rock bands wanting to get some of that ESO mojo just don't take the trouble to do it properly, says Waldin. Plus it's a hell of a lot of work.
"They'll just gets their keyboardist to notate some stuff for the violins and call that an arrangement," he says. Mr. Folds, on the other hand, "has put in the time and the money to make great arrangements for an orchestra – and that's what we like to see."
Folds has done this sort of thing before. This came before he scored big-time acclaim in 1997 with his alternative rock band Ben Folds Five (a trio, don't ask) and plaintive aging Gen-X anthems like Brick and Rockin' the Suburbs. Critics loved him – maybe because they all looked like him (David Lee Roth's joke about why so many music critics love Elvis Costello) – but Folds was clearly onto something fresh and original here. What sealed the deal was his hammering piano rock stylings that almost single-handedly (double handedly) brought piano back into rock 'n' roll. OK, Coldplay helped. Among the experimental projects Folds has done since going solo – the Five will be reforming soon – are symphonic shows, including a sold out show at the Sydney Opera House in Australia three years ago. A Sydney reviewer wrote, "Folds is terrific to watch at a piano – sweeping up and down the length of the keyboard, thumping beats out of the low notes, kicking his stool out from under him like a man hanging himself and generally attacking the instrument with punk rock gusto."
Sold. You had us at "like a man hanging himself." In short, this could be a perfect union of rock and classical music, two forms that don't often get along as well as others.
With the final set list chosen from a whopping 34 charts that Folds already gave the ESO – worked out during the one and only rehearsal on show day – the arrangements we'll hear on Thursday have been designed for an orchestra. It's a rare treat when it's often a case of the musicians being window dressing on top of a rock band, if they even need to be there at all. Here the orchestra is integral. There will be neither drum kit nor electric bass: Just the man at his piano with the weight and drama of an entire orchestra at his disposal. Talk about a feeling of power.
Asked if he's a big Ben Folds fan, Waldin responds, "I'm getting bigger."

[wp_connect_comments href="" width="300″ num_posts="6″ colorscheme="dark" /]