Kirk or Picard? Nerd or geek? It's all good at Edmonton Toy & Comic Show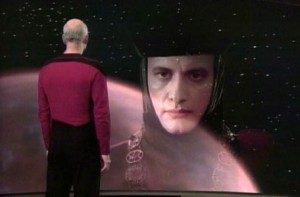 It's the age old debate: Kirk or Picard? It's been the "tastes great-less filling" argument of nerds for the last 25 years. Or is "geeks" the preferred nomenclature amongst sci-fi and comic book aficionados?
"There's been a bit of an argument about it," says Shane Turgeon, director of the Edmonton Collectable Toy & Comic Show happening Sunday, April 1 at the Shaw Conference Centre. "I've seen a lot of Internet rivalries about it. Like the uproar from the beauty pageant contestant who described herself as a nerd. 'Geek Chic' is another term that has come out. You can be into this stuff and not have to have thick glasses, or wear a pocket protector. I think the two terms are interchangeable. I'm not really sure if there is a preferred nomenclature. I myself am interchangeable. I'm a geek and I'm a nerd. It depends on who I'm talking with and what day it is."
The special guest at the event will be actor John de Lancie, best known as the nefarious omnipotent villain Q in Star Trek: The Next Generation (above). Turgeon became interested in getting the actor as a guest because the Calgary expo had announced they were aiming to get the entire original crew of The Next Generation. "I figured if they were going to have the whole cast, we might as well have the principal villain so that people have the opportunity to round out their entire Star Trek: The Next Generation autograph set," says Turgeon.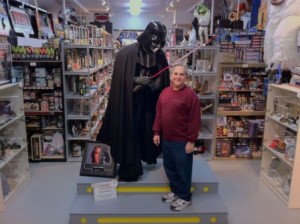 Other guests will include Julie Benz (Buffy, Dexter) and Steve Sansweet (right), director of "fan relations" at LucasFilms and the owner of the world's biggest Star Wars collection. One of the panels is a virtual tour of his collection, which – judging by the photos – needs a Wal-Mart to house it.
Turgeon is the only certified appraiser for collectable collections in Canada, in case you're looking to insure your toy collection. Along with being the director of this weekend's event, Turgeon is also runs Shades of Grey, a toy, comic shop and tattoo studio all in one – which will have a booth at the show so that anyone, nerds and geeks included, can get their skin inked.
"It happens it lot more than you'd think," says Turgeon, "We've been setting up at conventions all across Canada and the United States, bringing tattooing to the forefront. There is a crossover from tattoo culture to geek culture. There are tattoo conventions and comic conventions, so why not bring a little of both together? There's probably no better environment in which to finally get a Superman logo tattooed on your chest."
Turgeon is also the author of tattoo coffee table book, The Force and the Flesh; a compendium of – you guessed it – Star Wars tattoos.
The Edmonton Comic and Toy Show runs Sunday from 10 a.m. to 5 p.m. Admission is $15 for adults, kids 12 and under are free.