Local fashion, fine but rarely groundbreaking, on stage at WCFW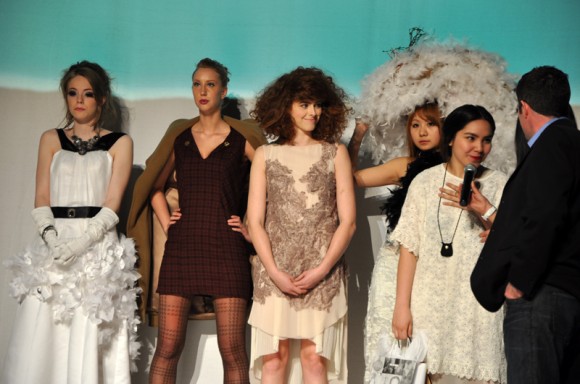 Sandra Fernandes, creator of Western Canada Fashion Week, and Lynn Mandel, wife of mayor Stephen Mandel, strode to the end of the hardwood catwalk hand in hand, said a few words about Edmonton's arts scene, shed a few tears, and with a dazzle of flashes from the photo pit, the fall/winter 2012 show was off and running.
Thursday night's event at the Transalta Arts Barns opened to a packed house, many sipping from champagne flutes of a $14 signature Moët cocktail festively named the Stiletto. Models from Whyte Avenue-area shops showed off what's in season, from American Apparel's casual-chic hoodies and big, round duffel bags to Colourblind's coloured jeans, and Gravity Pope's chunky wedge shoes to Sanctuary's extreme hippie and goth styles.
Longtime Edmonton legend Stanley Carroll presented a diverse collection, ranging from big, bold colours to creamy, khaki shades, placing unexpected details on dresses such as hoods. Patience Soyege, the winner of last year's emerging designer competition, also presented a collection, this one heavy on the purples and florals.
As in previous years, the evening's highlights were the stylist competition and, more importantly, the emerging designer contest (top picture). For the stylist competition, entrants were charged with creating ensembles solely from Goodwill finds. The results were impressive: wearable, up-to-date outfits perfect for springtime, with details showing truly inspired creativity, such as a clutch with gold piping created from vintage patterned wallpaper. Jericho Cender earned top prize for pairing a brown vintage dress with a fur hat.
The emerging designer competition was dominated by international flavour, with entrants originally hailing from as far as Iran, Vietnam and Spain. Inspiration from afar showed in a bulky kimono-inspired top and watercolour-esque leggings, a tiered black skirt and short, ornate matador's jacket with an original painting on the back, and a huge, flat feathered hat with branch detailing. There were ridiculous moments as well: when asked how long he'd been designing for, entrant Vinson simply stated, "Since February." Nevertheless, his model's sheer black jacket and white dress drew some gasps from the crowd. A cream-coloured dress stole the judges' hearts – and first place, too.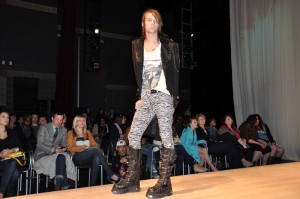 Unfortunately, not a lot of people stuck around to see it. After a short intermission, the crowd seemed to filter away and when the show resumed, there were a considerable number of empty seats. It's kind of surprising considering the $25 price tag attached to them, but when one considers what that $25 really buys – the opportunity to drink overpriced cocktails and watch a few hours of mostly-local fashion that's fine, but rarely groundbreaking – maybe it's not so shocking, after all.
While Ms. Fernandes publicly scolded the CTV Edmonton hosts for calling the event "Edmonton Fashion Week," despite the rebranding of a few years ago, in many ways it still is – and that's not necessarily such a bad thing.
Western Canada Fashion Week continues to April 5. Full schedule of events here.
(Photos by Robin Schroffel)