Western Canada Fashion Week suffers growing pains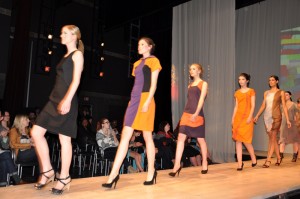 They say that third time's the charm – let's hope that holds true for the third year of Western Canada Fashion Week.
After changing its name from Edmonton Fashion Week in March 2010 to reflect a decade of accomplishments and attract a broader audience, WCFW has been doing its best to grow into a player on the international fashion scene. And while the event – the brainchild of local artist, designer and stylist Sandra Sing Fernandes, who found success during a 15-year stint in New York – has become the third-largest fashion week in Canada, some would say it's still a long way off from being a top-tier event.
Local style blogger Sandy Joe Karpetz says she's waiting for WCFW to prove her wrong, but after attending this year's launch party at Phabrik Magazine headquarters, the woman behind The Pretty Secrets was more skeptical than ever. The night featured a fashion show of models parading down the catwalk in little black dresses – cradling samples of flooring from event sponsor Absolute Hardwood Flooring.
"It's hard to take flooring walking down a runway seriously," she says. "I started going to the bar more after that."
Other issues over the years, including models showing up for pre-show hair at salons that have no idea they're coming, models never receiving photos after the show, models on the runway chewing gum and wearing ill-fitting shoes, no programs for the event and a magazine filled with pixilated photographs, have indicated there may be a bit of disorganization going on behind the scenes at WCFW.
Karpetz agrees, and feels that the event's organizers may be trying to bite off more than they can chew. "I think it was cheeky of them to call it Western Canada Fashion Week," she admits. "That's assuming a fairly large chunk of the country. It's almost masking where it is, like putting a veil overtop of it."
Instead of reaching too far out of the city, Karpetz feels that WCFW could be making better use of the resources it has. That includes not "filling space" with entire runway nights devoted to fantasy hair and makeup, which she feels would be better represented at parties or other innovative functions. Karpetz notes that many of the major players in Edmonton's fashion scene, such as Fridget Apparel, cinder+smoke, and Arlee Stewart, aren't even participating this year. All in all, WCFW may be suffering from trying to do too much, too quickly.
"You have to grow accordingly and not try to jump ahead of yourself because you want to be something you're not yet," Karpetz says.
Still, WCFW is filling an important role in the city, even if it's taking some time to work out the kinks. "I give them props," Karpetz says. "It's a lot of work. If they weren't doing it, I don't know who would be."
Western Canada Fashion Week continues to April 5. Full schedule of events here.
(Read opening night review here.)