Russell Peters plays Rexall Place June 21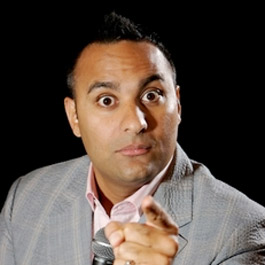 There aren't a lot of stand-up comedians who can play the hockey arenas. Russell Peters has to be doing something right.
Performing June 21 at Rexall Place as part of the Notorious World Tour – tickets going on sale April 14 – the Indo-Canadian comic is known the world over for his good-natured "racial" humour. Not to be confused with racist humour. Fine line. Just ask Jeff Dunham's puppets.
Peters' last Edmonton appearance in 2009 (in the hockey arena) featured jokes about whites, blacks, Jews, Gentiles, the French, Filipinos, Hungariana, Spaniards, you name the race – and all within the first 10 minutes. Impressive, no? His own race wasn't spared, of course. "It's a long drive from Mill Woods," he told his fellow Indo-Canadians who had come out to the show, and brought the house down. Observers might conclude that Peters can get away with this sort of thing because he's a member of a visible minority, but there's more to it than that. All racial stereotypes are fair game for Peters' brand of observational humour. He's said before that he didn't create the stereotypes – he just comments on them