Ann Vriend splits herself in two to render '80s rock in a jazzy vein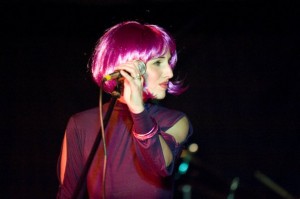 Having more than one personality can be challenge in real life, but it can be a real asset for a professional musician.
Ask Ann Vriend, whose alter ego "April Valiant" and her band the Valiant Thieves perform Thursday at the Blue Chair Cafe: covers of '80s songs rendered in a jazzy vein, Madonna's Material Girl as a sad ballad (as it should be, perhaps), AC/DC re-imagined as bossa nova, and so on.
We did ask her. Vriend describes April as a "ditz," and adds, "It's a different personality than the introspective singer-songwriter I usually am. I think Leonard Cohen's music was recently described to me as music to slit your wrists by. I don't think I'm that far down the dark trail, but it's definitely not party music."
Nonetheless, Vriend is curiously sometimes asked to play casinos, weddings and other gigs where the introspective singer-songwriter thing probably isn't going to work. And, as she says, you don't want to turn down work when you spend so much time trying to get it.
"First of all I have mostly breakup songs," she says. "It's not something you want to dance and party to at a wedding reception. I'd feel bad if I did that and didn't warn them. It would feel like a bad omen."
April would have no problem pulling off a gig like that, of course.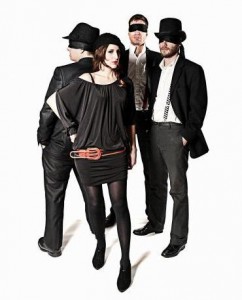 This is a cool trick to get twice as many gigs: Two entirely different projects fronted by the same woman showing two entirely different sides of her personality, hopefully without one interfering with the other. Ann Vriend doesn't have to worry about losing credibility as a serious original artist and April Valiant doesn't have to worry about being too serious. The music is still serious. While the very idea of Love in an Elevator as a jazz tune is a self-contained joke, a novelty – it isn't. April Valiant has been around nearly four years, born with self-titled debut album in 2008. There are plans for a follow-up.
There's plenty of precedent here. Who could forget Pat Boone's groundbreaking 1997 comeback album In a Metal Mood: No More Mister Nice Guy, a collection of heavy metal standards thoroughly whitebreaded and loungified (making himself the butt of his own joke in that he did the same thing with early rock 'n' roll hits back in the day – with a straight face). Calgary's Tim Tamashiro also had some success around the same time with his jazzulated covers that included Loverboy's Turn Me Loose.
In many cases, simply knowing these things exist is enough without actually needing to hear them, but there are cases where sheer artistry trumps the gag. Emm Gryner's solo piano version of Crazy Train is just lovely (one of several testosteronic rockers on her 2001 covers record Girl Versions).
Vriend likewise says that the April Valiant joke ends with the concept (which she warns will extend to her not even answering to her real name when performing as such) and assures fans that only the greatest care and the finest musicians are used to create these unconventional arrangements. Playful versions of such tunes as a swingin' I Wear My Sunglasses at Night or We Are the Champions recast as a tender ballad on Rhodes piano stand up on their own. These are pretty good songs to begin with, catchy, anyway, and good songs should be able to work in any context. Rounding out the Valiant Thieves are bassist Thom Golub, drummer Thom Bennett and pianist David Aide.
"It's a fun vibe," Vriend says, "but we take the music seriously."
None of the examples above actually created different characters to do their covers-crossover projects, though Vriend makes a good point: "You have to ask yourself if Lady Gaga or Marilyn Manson are really like that. There are people who put on an act for their main thing.
"You always have to be a little bit larger than life on stage as a performer, even if you're just a folk singer-songwriter. I wouldn't call it acting, but it's getting into the headspace where you're performing. I've never done any acting other than being in my own videos – which was an eye opening experience for me: Wow, being an actor is hard."
Asked if she's worried that April Valiant will take over Ann Vriend and become her dominant performing personality, she answers, "I won't be sad. I'll always have my Ann Vriend fans."
Yes, she just referred to herself in the third person – occupational hazard when you're two performers in one.