REVIEW: Titanic, the musical, sinks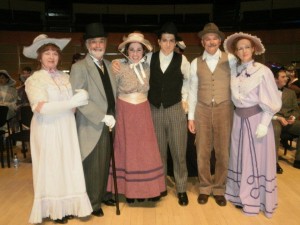 The Titanic will go on forever as a symbol of European industrial arrogance. It was – according to lyrics in a musical about the greatest nautical disaster in history – "the largest moving thing on Earth." Its designer, owner and captain all thought it too big to sink, and thus deemed it unnecessary to provide enough lifeboats to save a third of the passengers. The very word "Titanic" has since become synonymous with disasters of the most colossal kind.
All of these metaphors seem lost on the cast, chorus and crew of an awkward version of the Broadway musical Titanic, finishing up a two night run at the Winspear Centre Thursday night. In Director Barb Mah's notes, she states it was her challenge to "create empathy for the various individuals on board." Mah met that challenge half-way: I felt sorry for everyone involved with this show.
It is a few days short of the centennial of the Titanic sinking on April 15, 1912, so the musical's production is very timely. At least it had that going for it. The second act is also better than the first.
The stage configuration is quite baffling: A 27 piece orchestra filling the stage instead of in a pit, in front of them rows of black plastic chairs and a tiny strip of stage reserved the cast of 35 on which to sing and "act". The play is sans sets, projections or props, so perhaps "Titanic The Sing-along" might have been a title more apropos . The music is somewhere between Gilbert & Sullivan and John Phillip Sousa. The story is more white bread than a PB&J. The direction is so pedestrian, I was shocked that it didn't come with crossing guards. The show was plagued with lighting miscues which highlighted actors taking a break in their chairs, leaving singers on stage in the dark.  And – in moments worthy of Spinal Tap – the wireless mics picked up static, interference and ear-piercing feedback. In fact, one might suggest Titanic, the musical, is the Spinal Tap of musicals – except that it's unintentionally UN-funny.
As in the case of the great ship that sank a hundred years ago, there's plenty of blame to go around in this show produced by local company Two One Way Tickets to Broadway. Actually, the song "The Blame" is a sweet cacophony of rabid finger pointing and provides Titanic with its only stirring moment. The singing by the cast and The Edmonton Metropolitan Chorus is the other thing that saves this show from a rating of "disaster." The rest is wreckage.
More than 1500 people drowned or froze to death when the Titanic sunk. At least none of them had to endure this.