WEEKEND MUSIC PREVIEW: No strings on Real Boys
Posted on April 5, 2012 By Michael Senchuk Music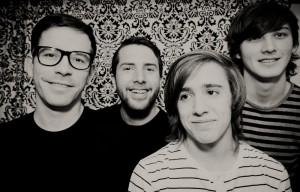 While the weekend's biggest name is undoubtedly the underground Brit-rock band Kasabian, which plays Edmonton Event Centre on Friday night, the best bang for your live music dollar may be at Wunderbar, where The Fight perform Saturday night for the tidy sum of $7. On Easter Sunday, Abbotsford's Real Boys perform alongside one of Edmonton's best known bands, Cygnets, for the same price.
Friday
Bring Us Your Dead – Our good friends at Avenue Theatre are back to featuring metal, this time for this local deathcore-metalcore act. For Reasons Lost, Silent Line, Eternal Prophecy, and Cultured By Fire also perform. 6:30, $12.
Kasabian – Though their most recent album received mixed reviews, this UK band has released four studio albums to date, the last three of which hit #1 in the United Kingdom. They've also won or been nominated for a whole host of Brit, Q, and NME Awards. On this side of the ocean they've had more trouble hitting mainstream popularity, not unlike many of our own bands trying to hit it big in the United States – their best showing on the U.S. charts was actually with their debut album, which barely cracked the top 100. Edmonton Event Centre, 7 pm, $27.50.
Seven Suns – This local prog rock band headlines a show at the Haven Social Club, along with Stef Lang. 8pm, $10.
Cancer Bats – The Toronto hardcore act has four studio albums to date, including "Dead Set On Living" which will drop on April 17. The band has a substantial following in the prairies, so make sure to get to the Pawn Shop early if you don't have a ticket yet. Touche Amore and A Sight For Sewn Eyes also perform. 8 pm, $15.
Saturday
Chilliwack – "Whatcha Gonna Do" on Saturday night? Go see this storied band, that's what. With around 14 albums to its name, the latest of which was recorded in 2003, these West Coast veterans have an extensive catalog to choose from – but it would be surprising to not see some of their biggest hits, like the aforementioned, or "Lonesome Mary" for example. Century Casino, 7 pm, $39.95.
The Fight – As mentioned, the best value for the weekend is this band, which will perform along with Troy Snaterse and Blair Drover at the Wunderbar – for just $7. 9 pm.
Easter Sunday
Real Boys (top picture) – This Abbotsford band has been seeing some good buzz recently based on its recently released a self-titled EP. The band features members of You Say Party! We Say Die!, Oh No! Yoko, and GSTS! Sort of surprising the Real Boys don't have an exclamation mark, too. One of Edmonton's best live bands, Cygnets, supports, as does Souvs. Wunderbar, 9 pm,