WHAT'S SO FUNNY: Bonfire Improv Festival opens Tuesday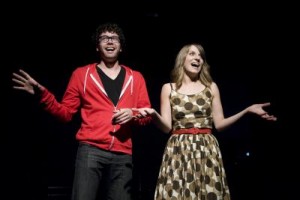 Without Canadian comedy, American comedy would consist of Jeff Foxworthy and Larry the Cable Guy. And Dennis Miller on Fox.
And without Edmonton comedy, Canadian comedy wouldn't have SCTV, Kids in the Hall (to an albeit small extent) or the rich legacy of comedy improv forwarded by the redoubtable Rapid Fire Theatre company. Conclusion: Edmonton is the funniest town in North America. Let's bask in that dream just for a moment.
Starting Tuesday is yet another new comedy festival, yet another event being put on by the aforementioned Rapid Fire Theatre – Bonfire, a celebration of long form improv. Nightly at the Varscona Theatre, it is what it says it is: Entire full-length plays make up on the spot. The methods are as intricate as they are varied. There is the basic "Harold," referring to series of scenes that rotate around a central theme. Penguins, for example. There's something called "Mail and Female," improvised scenes based on people's letters, a game called "Stretch," that involves the planting of a "seed" from which an entire narrative flows, and special guests including the nearly ubiquitous area rapper Mitchmatic, who will remix the dialogue of others into a free-styling hip hop spectacular. Or so we hope. Who knows? Like we said, it's all completely made up. Bonfire runs April 10-15.
Looking further into next week, we see yet another member of Kids in the Hall will be paying us a visit. Dave Foley, who has appeared on too many television shows and movies to count, takes the stage April 13-14 at Yuk Yuk's. Skit or stand-up? It remains to be seen.
Finally, Steve Martin is coming to town – but he's not telling jokes. The joke's on us. He'll be playing the banjo. The comedy legend is a crack picker, as we've been forced to know for years, and will be exercising his hobby July 22 at the Jubilee Auditorium with his band, The Steep Canyon Rangers. Tickets are on sale April 14. Why do these guys always do this? Tim Robbins comes to sing the folk fest when he's a far better actor, Barbra Streisand tries to act when she's a far better singer, Steve Martin is a legendary comedian who strives to be a pretty good bluegrass player – and there's no punchline in sight. Whatever happened to "to thine own self be true?"
Well, the in-between song patter better be funny.