New all ages club opens Friday with Scenic Route to Alaska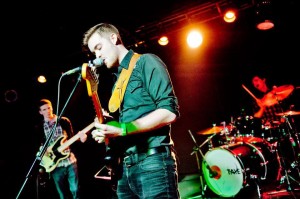 One of Edmonton's premier folk-rock acts will help launch a new all-ages downtown venue on Friday.
Scenic Route to Alaska, fresh off a long drive home from Toronto in a '91 Toyota Corolla, will headline the first show at the Elevation Room in Transcend Coffee's downtown location (Jasper Avenue and 104 Street).
"We're unbelievably excited. It's the first time we can remember that we're playing an all-ages show," says singer Trevor Mann.  The son of two traveling folk musicians, he aptly describes his band's sound as "emotion-filled indie folk rock without being emo."
Elevation Room manager Joe Gurba says that's about as rowdy as his new venue will get musically. The local rapper, promoter and Old Ugly Recording Co. founder says the Elevation Room is geared toward folk and indie-pop and will avoid hip hop, electro and heavy rock. Bands will play downstairs every Friday and Saturday while upstairs operates as a café, offering a unique environment.
"I know the scene pretty well and know the venues that we have, so I looked and said, what do we need that we don't have?" Gurba says. "People go to shows to do two things: to watch music and to socialize. Usually it's not just one or the other. The problem is usually that one interrupts the other. The great thing about this venue is that upstairs, where you order, is totally perfect for socializing … while downstairs is intimate and completely focused on the music."
The 100-capacity venue is also licensed, but shows will wrap up early. A typical gig will start around 8 p.m. and finish by 11 or 11:30 p.m.
"There are people out there who like live music but don't want to be out until one in the morning. So there's that aspect too, and that gives the show more of a focused, deliberate feel," Gurba says.
It turns out there is quite a demand for a space like the Elevation Room – the space is already booked right through June.
"It just goes to show you how much people want another venue," Gurba says.
Mann, with bassist Murray Wood and drummer Shea Connor, just returned from a stint at Canadian Music Week. The three bandmates all grew up in the same neighbourhood until Wood left to attend Montreal's McGill University in 2010, but Mann and Connor, who are often stuck playing as a duo, have stayed close together – and now they're roommates. Despite a long-distance band relationship, the guys managed to tour Western Canada, play the Edmonton and Canmore folk festivals, and record a six-song self-titled EP last year. In November the young band tracked a full-length album they hope to release this summer, and this past February, Scenic Route to Alaska was named Sonic FM's February Band of the Month. Mann says there are few options for local bands that want to play to their youngest fans – and that's where the Elevation Room comes in.
"It could become a really popular stop, because a lot of bands are looking for that kind of connection (with all-ages crowds)," Mann says. "It's either that or you play a hall show, and these days hall shows are few and far apart, it seems."
Baby Driver and Sugarglider will open Friday's show, tickets here or $10 at the door.