Exhibition of prisoners' art to reveal humanity beyond their crimes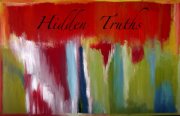 The artists whose work is in a new exhibit at Latitude 53 gallery have a good excuse for missing the Friday opening – they're all in jail.
"Hidden Truths," which opens April 13 with a reception that's open to the public (7 to 10 p.m., 10248 106 Street), showcases drawings, sculptures and other mediums created by women who are inmates in a correctional institution. An agreement with the Correctional Service of Canada, organizers say, prevents them from releasing which jail. Images of the artwork in advance of the show are also being kept under wraps.
1 2