REVIEW: Trans-Siberian Orchestra equal parts pleasure, pain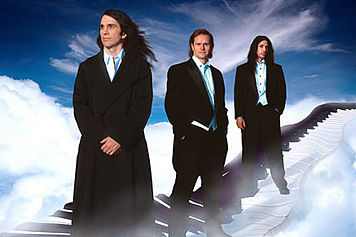 The Trans-Siberian Orchestra brought every trick in the book to the Jubilee Auditorium on Monday: Fog machines, dry ice, projectors, lasers, strobe lights, a huge set, a seven piece string ensemble, a choir and enough flame canons to warm of the faces of those sitting in the second balcony.
In a show equal parts pleasure and pain, it was all in aid for remounting its 2000 release, Beethoven's Last Night.
For the uninitiated, Trans-Siberian Orchestra (TSO) is self-described as a "progressive metal band," the brain-child of producer Paul O'Neill, and they been in existence for the last 17 years or so. TSO specializes in concept albums (three of them about Christmas – and counting). They have also brought back the dead art of rock operas. TSO carries with them a strong influence of classical music, and they are – arguably – one of the biggest cult bands in the world.
The premise of this particular rock opera is that Beethoven on his last night is visited by a ghostly woman named "Fate" and by her son, a dwarf named "Twist." Ludwig Van has just finished his 10th Symphony and Mephistopheles has come by to collect it for his own. Beethoven, Haydn and Mozart converge in Vienna to jam (a historic impossibility) with some girl named Teresa. Or something. I admit that after a while I tuned out and instead focused on how the arches on the set changed facades with each song. Two strikes against it: The story is presented in rhyming couplets, and narrator Bryan Hicks' thick, lugubrious diction. The Teutonic and Baroque stylings just seemed to underscore the banality of it all.
A TSO concert is a moment-to-moment existence: It was hit and miss with me almost to the point of analyzing it note by note, and sifting through those that brought pain to get to the ones that gave pleasure. At one point they were cribbing a Rush riff in order to segue into "Flight of the Bumble Bee." It was hard to watch a group this talented and dedicated do this sort of thing; one moment they were reaching for Yes, the next they were grasping at Styx. And in an eye-rolling moment of embarrassment, they were playing footage of Gary Oldman from Immortal Beloved in an attempt to pass off the footage of its own.
After nearly two hours of Beethoven's Last Night, just when you think you can peg TSO as a talented, but overly ambitious combo that chokes on the weight of its own pretension, out comes Georgina Napolitano to stab you in the heart with a poignant rendition of "A Final Dream".
The final six songs of the evening were our reward for sitting through the half-assed concept album. And what a reward it was. It was easily the best part of the show. For their penultimate number they played a version of Carl Orff's "Carmina Burana" that would have knocked the socks off your Nana's corpse. But then, just when you think it's safe to give TSO a passing grade, they make a cheap play for the audience's favour by playing an off-key version of "O Canada", complete with red and white motifs and flags. Painful.