Hey Ladies! Imagine The View on acid – and booze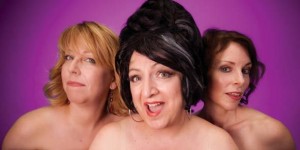 Yup, it's that time of the month. At least it is for Davina Stewart, Cathleen Rootsaert and Leona Brausen – hostesses of the monthly comedy-variety show Hey Ladies!
At the Roxy Theatre this Friday night, it's a throwback to those afternoon hostess shows you used to watch on TV with your mom before you were old enough to go to school – except this show can get loud and raunchy. Also, booze is served. Rootsaert calls it "The View on acid."
These three ladies have worked together before. They've developed a strong rapport as regulars in the ongoing, improvised weekly soap opera Die-Nasty for the last 20 years or so. Their comic timing is flawless, or at least that optimum level of excellence that improv allows. Those who have seen and know past shows also know that Hey Ladies! is a blizzard of activity, games and prizes. The month is no exception, although this edition has an ominous flavour in honour of Friday the 13th. Special guests include teacher-turned-actor Noel Taylor, along with Jeff Fillion and Alex Russo to serenade your superstitions away, a "terrifying" honorary Lady to answer all of your relationship questions (spoiler alert: might not be an actual lady), free booze samples and a version of Match Game. There is live music and there are drinks – two of the Ladies' favourite things.
And don't miss the "stupid and hilarious" cooking segment.
"Sometimes the results are quite good," Rootsaert says. "Once we made ice cream with dry ice. That was super awesome, except in the moment, I was so excited by the way it turned out, I got a little too enthusiastic and ended up swallowing a piece of dry ice and burnt my esophagus." Past cooking segments have included "Thanksgiving in a bag," which apparently much better than it sounds, while this upcoming segment is tagged "Souperstitious."
Even though all this might sound practical and functional, Rootsaert wants to emphasize the "fun" component of the event.
"If we're not having fun and the audience isn't having fun, then we have failed. We want to make sure the audience leaves with their sides aching and," she adds with a giggle, "a little tipsy."