WHO NAMED THE BAND: Nashville Pussy raises the badass bar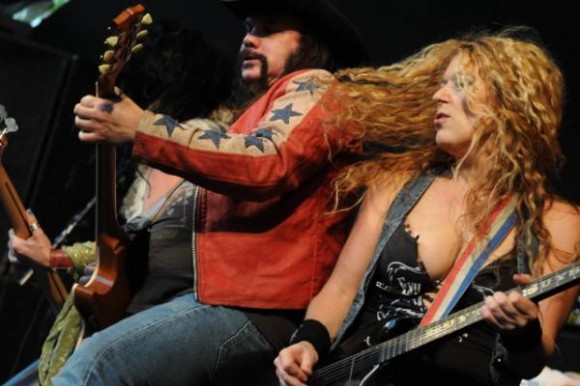 The challenge in picking a really cool band name is that you have to live up to it. This shall now be known as the Nashville Pussy Impetus. The band plays the Pawn Shop Sunday with the like-minded Supersuckers.
(Cussing below, reader discretion advised.)
"You can't call yourself something great and then suck," says lead guitarist Ruyter Suys in a recent phone interview. "You gotta back that shit up."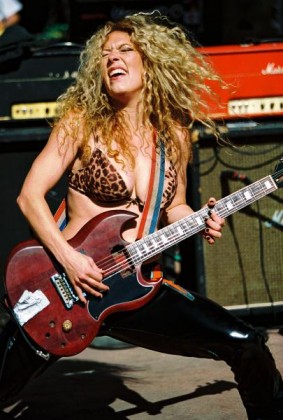 They do. This chick is a badass Southern belle of the highest order, outspoken, easy with a friendly laugh and a hearty "Fuck you, Edmonton!" upon learning that it snows here in April. Suys teamed up with a mountain of a man from Kentucky, one Blaine Cartwright, who, as a side project called the Kentucky Bridge Burners, just released an entire album of songs about Jesus. The music of Nashville Pussy, meanwhile, can be downright devilish. Together as husband and wife, with various rhythm sections (currently Karen Cuda on bass, Jeremy Thompson on drums), Suys and Cartwright generate what can only be described as "badass rock 'n' roll," a genre unto itself that includes timeless badass bands like Motorhead. These two in fact met (in Saskatoon, of all places) when they spotted each other across the bar wearing matching Motorhead T-shirts. They had sex on the first date, she admits happily.
Nashville Pussy had already forged its basic badass sound when time came to name the band some 15 years ago, in Athens, Georgia. Suys and her bandmates knew how hard it is to properly name a band, mindful of the advice they got from a favourite philosopher: Homer Simpson. Suys quotes: "A good band name should be funny the first time you hear it and less funny every time afterwards."
The band's bassist at the time, Corey Parks, brought forth a list of prospective names.
"She had about 50 of them. They were terrible," Suys recalls. "I wanted to name the band Ham. I'm rather hammy on stage, and I love ham. I like everything about the pig. There was Bacon Battleship, Hair Care for Sinners, I can't think of all the dumb names."
Then one day, she goes on, they were all sitting around full of deep-fried hamburgers and watching the Simpsons when Cartwright quoted a line from Ted Nugent: "Nashville Pussy."
Suys says, "We all cracked up and said, 'man that would be so fucking cool if we had the balls to do that!' And we looked at each other and it was like: We can't not do it. It's so good. We have to do this. Instantly we became more badass. I don't think we knew how badass we were going to be."
The first gig as Nashville Pussy was a great success, Suys reports, "We blew all 12 people away."
Nashville Pussy didn't have an easy time being badass. Just when it seemed that society was loosening up and "we were on the verge of hearing 'pussy' on network television," Suys says, "the converse happened" and political correctness came roaring back. Club owners didn't want to put their name on a marquee, magazines were loath to print their ads, radio DJs didn't want to risk getting fired for saying "pussy" on the air, let alone actually playing their music, and needless to say MTV and MuchMusic wouldn't touch Nashville Pussy with a ten foot pole. Quite a pickle.
"I think that's why we have such a fervent, dedicated audience because the people have had to be slightly defiant in their love for us, even people in the industry," Suys says. "People who have stuck with us have stuck with us regardless. It's a weird little cross to bear to work for Nashville Pussy."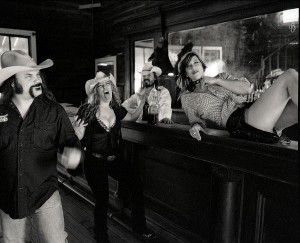 They made it work, built a reputation on ferocious, raunchy live shows and songs about drinking, driving, sex, guns or various permutations and combinations thereof. There was cult success, a Grammy nomination for the 1998 debut album "Let Them Eat Pussy," attracting legions of slightly defiant fans around the world. The band tours now behind its latest album, From Hell to Texas. Perhaps you are sensing a theme here, a raison d'être? Maybe. Oh, sure, people gave them advice along the way. People suggested they should maybe change their name. Their response: "Fuck, no! It's Nashville Pussy," Suys says with a laugh. "They want us to change our name? How about Alabama Pussy? What do people have against Nashville?"
Well, for a while Nashville Pussy did operate out of Nashville, whose entire rock scene was underground because "nobody in that town gave a shit about rock 'n' roll." Conversely, Nashville Pussy "didn't give a shit" about what anybody thought of them or their provocative name, so it worked out. "We've never given a shit," Suys says. "We're like Motorhead. We operate outside the regular music scene."
For pointing out that people who say they don't give a shit often want people to know that they don't give a shit, thus proving they give a shit and may be full of same, Suys calls me a "fucking Canadian" – but insists Nashville Pussy is for real. The badassery comes naturally, she says. The name merely shaped Nashville Pussy's direction – and who knows how things could've turned out if they'd been named Ham all this time. Think of the merch opportunities.
The question is now: How long can these Southern fried rockers keep living up to their name?
"It's not hard to find that spirit," Suys says, "but sometimes the body is not as willing. Corey fucked up her back. I've fucked up my back a lot. But as soon as I tell myself to take it easy, I go even crazier. My body better catch up to me. I'm going to rock myself into a fucking wheelchair, I know it."
Occupational hazard for a professional badass.