Alberta film and TV producers tremble as budget axe falls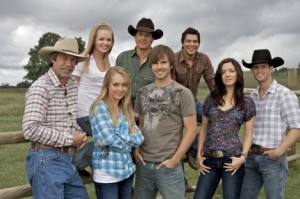 Alberta's film and television producers are waiting for the bombs to drop as details emerge on the impact that federal budget cuts will have on the National Film Board, Telefilm Canada and the CBC.
The most damage will likely come from the announcement by the CBC that it will reduce spending on independent productions, according to Bill Evans of the Alberta Media Production Industries Association (AMPIA). There is even speculation that the hit series "Heartland" will be cancelled, though Evans says he'd be surprised since it's a big revenue producer for the CBC. Telling a distinctly Albertan story and shot in the foothills by Calgary's Seven24 Films, Heartland employs a lot of Albertans, including a number of people from the Edmonton area, like actor Shaun Johnson (as Jack Bartlett, above, left), and one of the directors, Francis Damberger, who lives on a ranch in Tofield.
Other shows feared to be under the axe are "Republic of Doyle," (below) and the new show "Arctic Air." Nobody knows yet. The broadcaster told its employees during a town hall-style meeting earlier this month that six series will likely be chopped. The exact ones will be revealed to the public May 10 when the fall lineup is announced. The shows' producers could know as early as next week.
Last month's federal budget chopped $115 million from the CBC over a three-year period, which is about 10 per cent of its federal government allocation. Kristine Stewart, vice-president of English programming, has said $43 million worth of programming amounting to 175 original hours next year would have to be cut.
Telefilm Canada and the NFB have also made announcements about how they'll absorb their own 10 per cent budget cuts from Ottawa. Telefilm announced in an industry update on its website on April 11 that it must save $10.6 million over three years, and will do it by cutting 30 full-time positions as well as reducing funds for development financing, promotion and training. News on its future support for events, like film festivals, will come at a later date, the statement says.
The NFB says in a news release that it is closing viewing rooms in Toronto and Montreal, consolidating administrative services in its regional offices, and reducing funds earmarked for production by about one per cent of its global budget. It has also said it will be ending support for festivals.
Josh Miller, president of Panacea Entertainment, an Edmonton-based production company, says it's possible the cuts will mean some projects just may not happen.
"Telefilm already was underfunded in terms of demand. Obviously now they're going to be able to fund less," Miller says. "If anybody is nimble, it's independent producers. I'm sure we'll respond, but there could be independent producers who may have to close the doors."
The Edmonton International Film Festival receives just under five per cent of its funding from Telefilm, according to the festival's producer, Kerrie Long. She says the festival has been trying for the last five years to rely less and less on grants.
"A hit is a hit, but it wouldn't affect us enormously," Long said. The festival doesn't receive any funding from the NFB.
Evans, meanwhile, notes the Academy Award-nominated animated film "Wildlife," about an English gentleman's move to the Prairies, was produced out of the NFB office in Alberta. He also says Telefilm supported a recent comedy writing workshop, where his association brought writer Steve Kaplan up from Los Angeles.
He says the "development financing" portion of the Telefilm budget refers to things like support for writers, helping them sell scripts and providing promotional materials to get their projects going.
"In film and broadcasting we're flooded with American programming and we struggle to compete," Evans says. "Any cuts to the system threatens the system. There are people who argue our cultural industries shouldn't get any funding. I'm not one of them."
While the CBC says independent drama production will be scaled back, the corporation also announced it will be relying more heavily on independents to produce documentaries as it scales back its own in-house doc production.
Niobe Thompson of Edmonton's Clearwater Media, which has produced documentaries for Doc Zone and The Nature of Things on CBC, says that could possibly benefit companies like his. Clearwater's latest work to appear on CBC was a documentary that ran last month on The Nature of Things about long-distance running, called "The Perfect Runner."
"It could be an opportunity for independent producers that are well-positioned and have a reputation for quality," says Thompson, speaking from Copenhagen where he is currently on a year's sabbatical. He cautions, however, that it's hard to know what opportunities are available, and he says he likes the programming CBC offers on radio and TV and will miss whatever is cut. "Independent producers like us are very nervous about the cuts at the CBC," he says.
Miller notes the CBC may not actually end up paying for more independent content. Rather, he fears they could end up just re-running the content they've already bought over and over again.
"The larger, bigger picture here," says Miller, "is there will be fewer Canadian stories told."