REVIEW: A Midsummer Night's Dream is a love most supreme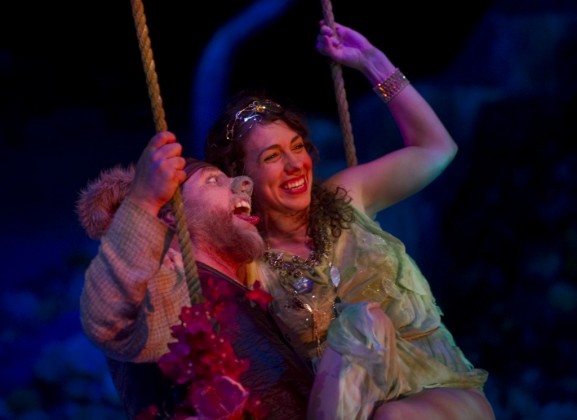 It must have been vexing for the groundlings who first witnessed A Midsummer Night's Dream and its plots, tri-pronged: One, planned nuptials and entanglements of desire; two, a fantasia in the forest; three, rehearsals for a play, doomed to go wrong. A plethora of anachronisms, a herd of non-sequiturs made this play a task to defend. Hard to fault the thinking, "Methinks the Bard high when this thing he penned". Tho' eons have since passed, the play's reputation transcends, now critic-proof and much more easy to defend. Today: required reading for high school students, their attention it demands. Bored and distracted and tweeting each other of their after-school plans.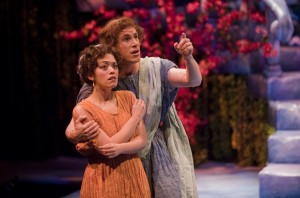 In an Ancient Greek court, Hermia is betrothed to Demetrius by Egeus, her father. Yet, Hermia loves Lysander; to ask her how she felt, no one bothered. In the woods, plush and pastoral, a satyr of infinite jest and pluck. A name that rhymes with what he does to minds, that imp's tag is Puck. He doth complicate plots with mischief and whimsy aplomb. Taking an ass named Bottom and making him even more dumb.
All the world is a stage indeed, and "the play is the thing" we have been told. Director Tom Wood gives pacing and blocking to this piece both vital and bold. As Puck, Jonathan Purvis is a gymnast of Olympian gauge. Stunting and cavorting with glee and owning the stage. A final tableaux, an image forgotten none too soon; of Purvis leaping, silhouetted by a full moon. As Bottom (an ego as big as his codpiece), Julien Arnold plays the role both spry and sprite. To watch him fret and strut the boards, he is a monster, he is a delight. Hard to see where the actor begins and the character stops. Tho' he plays Bottom, Arnold is the tops. In the role of Hermia, Rose Napoli is both effusive and shiny. Expressing the stress of a marriage forced upon her, without becoming the least bit whiny. Jesse Griffiths – as Snout – portrays a wall very badly on purpose to give his director grief. The audience cackled and howled for reasons right; Griffiths is perfect comic relief.
Designer Bretta Gerecke deserves more than an honourable mention. During that rare occurrence of stasis, her sets and lights caught my attention. Bringing to the game a full palette of pastels, ruffled vistas and a full moon in the air. Best of all, marble steps with white flecks, to reflect chipping and real-life wear and tear.
If this rhyming has offended, think of this and all is mended. Blame the influence of The Bard himself; a gauntlet laid down by Puck. I much loved this production. If you disagree, I really don't give a …
A Midsummer Night's Dream plays through April 29 at the Citadel Theatre.