EDMONTON RADIO: Garner Andrews, morning man of mystery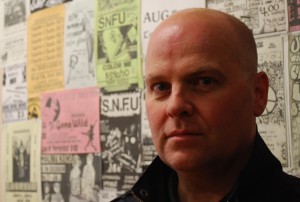 Garner Andrews can't stand public speaking. He admits he even freaked out a little bit before delivering a toast at his brother's wedding, and stresses "for months" over the prospect of doing a band introduction on stage – and yet he has no problem talking to 50,000 people on Sonic radio every morning.
"That doesn't bother me because I can't see them stand up and walk out of the room – or the radio version, reaching for the tuning knob," the 46-year-old announcer says. "Because I can't see it, I'm OK with that."
Ah, the invisible spectator. The solo host of the No. 1-rated morning radio show in town is a guy for whom radio and music are intertwining loves – especially music. Before a sit-down interview recently, we met at Permanent Records off Whyte Avenue, where Andrews talked shop with co-owner Clint Anderson – Dan Auerbach of The Black Keys working with Dr. John, Jack White, Tom Waits, Sonic Youth, Joel Plaskett, Willis Earl Beal, the joys of vinyl – and bought a copy of Soul Time, by Sharon Jones and the Dap Kings. He wanted The Kills, too, but they were sold out. Talk about variety.
Along with a deep knowledge and love of almost all forms of music, Andrews understands the secret of good radio, the importance of making personal connections with listeners beyond playing hit after hit after hit. As he puts it, "If you don't allow the people on the radio to have interesting conversations with people who are listening to the radio, you'll lose them – those people will just go listen to their iPods."
No one wants that. While other morning shows rely on wacky banter between two or more hosts, teeing off on the hottest celebrity news of the day when they're not poking each other, Garner builds his show around callers. He and his listeners talk about topics other shows usually wouldn't touch, let alone come up with in the first place. The listeners call in because they have a story to tell – and Garner has a knack for getting it out of them.
A cull of recent samples include the question of whether a man can still be called a man if he admits he watches Glee. Short answer: Yes. Following a newspaper story about how prisoners are treated, Garner asked listeners if anyone has ever done federal jail time – and ended up talking to a man who did eight years and was only now getting his life back together. "Not everything needs a punchline," Andrews says. "That's exhausting when you're hanging out with that guy where everything has to be funny. I don't want to be that guy on the radio. Not every story is funny – but they're all interesting."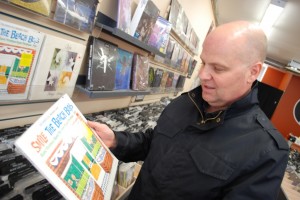 There is political content, but not really. "I know nothing about politics," he says, but still suggested that the person or persons responsible for the Wildrose Party "Boob Bus" should be awarded employee of the month, accident or no accident. Garner is quick with a witty retort. During a recent bit called "The Bonnie Brooks Band Name Generator," he told a caller that citing Steve Vai and Ace Frehley as influences "guarantees that no girls will come to your show."
We could go on. In a land of tweet-reading nitwits, Garner Andrews stands alone. The combination of deft comic timing and rapport with his subjects (and clever, lightning quick editing) creates some of the funniest, most offbeat moments that Edmonton Radio has ever seen. Well, heard. There's an element of the circumspect here. Garner himself is rarely in the story. He's mainly an impartial observer – an impartial observer quick with a smartass comment. To quote Dr. Evil, "The details of my life are inconsequential."
Here they are anyway. It's an offbeat success story. Andrews was born and raised in Moose Jaw, Saskatchewan, where he fell in love with radio as a child. He would listen for hours on end to his little white transistor radio when he was supposed to be sleeping in bed – CHAB-AM Moose Jaw, Convoy by C.W. McCall, or maybe "Don't rock the boat, don't rock the boat, baby," Garner sings – and don't forget that all radio was top-40 radio in the '70s.
"I loved the mystery of it," he says, "of hearing these voices talk about the music and talk over the intros of the songs and stop talking just as the singing started – I loved that!"
He says the DJs were especially mysterious. A DJ is mysterious – a lonely voice in the dark who picks songs you might like when you don't have the energy to do it yourself, a cool friend who talks directly to you when you don't have any other friends in the world. That's the magic of radio. Think of two famous instances of mysterious radio announcers in film: In American Graffiti, the effective narrator was the famous Wolfman Jack, who maybe had two seconds of screen time in the scene where he bursts the kid's bubble to maintain his privacy. And any fan of the gangland classic Warriors will remember the female pirate radio DJ who reported on the deadly chase, and all you could see were luscious lips next to a microphone.
"I'd wonder what that announcer looks like," Andrews continues his childhood reminiscence. "There might be a glimpse once in a while in the paper, a grainy photo of the announcer in the studio – and I would stare at those pictures for hours, looking at all the buttons, and think, so that's where it comes from. I think that mystery is gone now."
After three months of training at the Western Academy of Broadcasting in Saskatoon, Andrews went into voice-over production, doing stations IDs and such WITH THAT BIG VOICE. "Yes, I was that guy," he says. He compares the art of creating radio promos and monster truck ads to "yarling," that vocal style perfected by people like Eddie Vedder and ruined by people like Chad Kroeger.
Weird karma here – and while not a religious man, "I believe you get back what you put out there" – Andrews says he'd always wanted to be a morning show host. Not just any radio announcer, but a morning guy. It's an exalted position usually awarded only to veterans who worked their way down the clock. You start with midnights and maybe you'll get your chance one day.
Andrews started in the morning. As luck would have it, he knew the two Edmonton businessmen who won the license to start what would become Sonic 102.9 FM seven years ago – Stu Morton and Roger Charest (who sold the station to Rogers in 2006) – who brought him to Edmonton and hired him sight unseen, voice unheard.
"I don't know that either of those two guys ever heard me on the air," he says. "They knew me as a writer and a producer. I hadn't been on the air for 10 years."
Stu and Roger's instincts were spot on. Garner has been Sonic's morning man ever since.
On the appeal of morning radio – a source of some of the finest sit-down comedy you'll ever hear in your vulnerable-sleepy- hurried state – Andrews says, "I like how busy it is, I like the fact that people are going in 10 different directions and you only get moments of their time. They're getting ready to go to work, getting the kids to school. They're not with you all the way from 5 to 10:30 a.m. It's not like watching The Ten Commandments. You might only get four minutes of a person's time. I like how valuable it is. It's not like you're always going to say something touching and profound in those four minutes, but I like that kind of in and out."
Andrews is not one of these music snobs who thinks mainstream music is necessarily crappy music – he has no Nickelback lurking on his iPod, but refuses to bash them "because it's too obvious" – or that FM radio is a vast wasteland. He takes the charitable view that most listeners aren't music fanatics like he is. Music is not the focus of most people's lives – and that's just fine.
"I am a fan of radio," he says. "I always have been. I love music. I love radio, I have no beef with anybody else. I love what these other guys out there are doing. I guess it's my passion."
What's next? Not stand-up comedy. He'd be good at it if weren't for that terror of public speaking. Maybe he could form a rock band.
"I've started thinking about it, not that I ever want to play live – maybe I could do it if I didn't have to sing – but I finished my basement in my house and I set up a little corner where I imagine my friends coming over on Sunday afternoons and having a great big loud jam session. I could get into that."