Roxette returns to play Rexall Place Sept. 10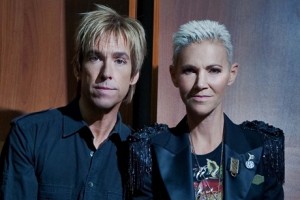 Now here's a blast from the past – Roxette is coming to town.
The Swedish pop duo perhaps best known for The Look – as in "you got The Look," still holds up, eh? – will play Rexall Place on Monday, Sept. 10, backed up by a comparable Canadian blast from the past Glass Tiger. Tickets are $20 to $75 and go on sale Friday.
After cutting a huge swath through the late '80s and early '90s, with songs like Listen to Your Heart, It Must Have Been Love and Joyride – all, like The Look, hitting No. 1 – the band dropped out of sight before reforming with a vengeance in 2009. Roxette is touring now behind a new album, Travellin', in stores June 12 – same day that Glass Tiger releases its Thin Red Line anniversary edition. This will be Roxette's first Canadian tour in 20 years, part of what appears to be a non-stop world tour with 85 shows and counting.
Glass Tiger singer Alan Frew, meanwhile, was just here doing the Century Casino.