PUNK CONTEST: Win Social Distortion tickets!
Posted on April 18, 2012 By Albert Smith Contests, Music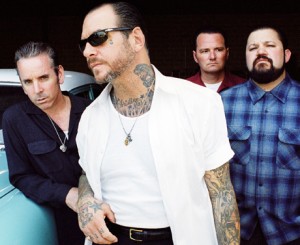 If you caught Social Distortion – or "Social D" as they're known to true fans – at the last Sonic Boom event, don't miss the venerable punk rock heroes' return to the Edmonton Event Centre on Friday. The band is touring behind its latest release, Hard Times and Nursery Rhymes – and doesn't that sound like a swell combo for old-school punk rock. Buy your tickets here or win them. Your choice. We have pair of tickets to give away today.
Simply answer the following memory-testing question: What was the first thing Mike Ness did to open Social D's set at Sonic Boom 2011? Hint: It involves bodily fluids used as a traditional punk rock display of respect for the audience. Email your answer HERE. Include your full name, please. Best guess chosen randomly will win.
Opening Friday's show will be the Toadies and a guest band to be named later.