WEEKEND MUSIC PREVIEW: Stone Iris previews new album at the Starlite
Posted on April 19, 2012 By Michael Senchuk Music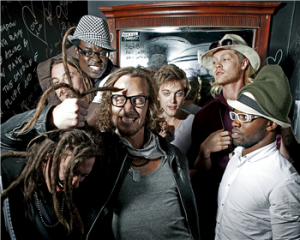 It's a relatively light weekend for live music, not to be unexpected after a cataclysm of revered acts gracing the stages of various Edmonton venues this week. With Coldplay opening up their North American tour with a legendary performance on Tuesday, an intimate event with Our Lady Peace at the Starlite, and Joel Plaskett at the Winspear, this weekend's offerings, featuring Social Distortion and a couple of album release parties on Saturday night, are like the shimmering rainbow following a heavy downpour.
Friday
Social Distortion – These Californian rockers were last in town in the fall as part of Sonic Boom (whose 2012 lineup was announced earlier this week), but are now making their way across North America supporting their most recent album from early 2011, "Hard Times And Nursery Rhymes", their first album in seven years. The Toadies and Lindi Ortega open. Tickets still available. Edmonton Event Centre, 7 pm, $39.50.
Aaron MacDonald – This Nova Scotian singer-songwriter released his first album in 1998, and has added a handful since then. Haven Social Club, 8 pm, $10.
Saturday
Cygnets – This local alt-electronic band with a bit of a throwback sound plays their own intimate show this weekend, headlining an evening in the cozy confines of The Artery. Energetic Action also performs. 8:30 pm, $10.
Mandates – Hailing from Calgary, this power-pop-new-wave group is currently signed to one of the province's more notable labels, Mammoth Cave. Dead Voices and Allotropes open. Wunderbar, 8:30 pm, $10.
J. Eygenraam – This Edmonton folk-rock artist's album release party is being hosted as part of new venue Elevation Room's second weekend on the scene. Liam Trimble and Simon Hoskyn open. 8 pm, $10.
Stone Iris (above) – The weekend's other album release is over at the Starlite Room, with this area rock septet supplying the new music ("Illuminations" will be available May 15th); and also featuring performances from Random Falter, Suppliers, and Whytes. 9 pm.
Sunday
Burning Streets – Known to his friends as Will Burn, this singer-songwriter is nominated for the "Artist To Watch" award in the 2012 Edmonton Music Awards (which take place next weekend, tickets are still available). Bango an DeMan and Hayley Morgan also perform. Jekyll & Hyde's Pub and The Hydeaway, 6 pm, $5.