WHAT'S SO FUNNY: Landry airs dirty laundry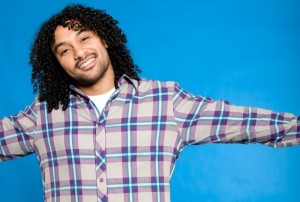 It's getting a little tiresome to see ethnic stand-up comics going on and on about their ethnicity time after time after time – but hey, write what you know, eh? Still, it seems a bit lazy.
One of the best in Edmonton this weekend is the mono-named Landry, at the Laugh Shop in Sherwood Park. He's a Canadian transplanted to Georgia whose "father was Jamaican and mother was a redneck." The jokes practically write themselves from here:
"My family tree has branches. Yours is a stump."
"You don't know how difficult it is to breakdance to Sweet Home Alabama."
"I had a dreadlocked mullet till I was 12."
And talking about how his mother was attracted to black men, "You know what they say: Once you go black … you're a single mom."
Obviously he touched a source of pain there – his own. And again the honesty of good stand-up comedy proves itself. This guy has a lot of potential, even beyond what has to be a rich lode of personal material it sounds like he's only begun to develop. And it's not all self-referencing race jokes, either. Landry also has a strong bit about Facebook: "A great place to keep track of the depreciating value of the people you went to high school with."
Landry performs Friday and Saturday at the Laugh Shop.
Get Your Geek On
NEXT, we wield our plus-3 cursed magic sword of bitter cynicism and sally forth to meet (rattling of dice) – Danielle Smith? That can't be right, or maybe it is. Anything is possible in Dungeons & Dragons – the theme of Saturday night's Chimprov show at the Varscona Theatre, starring Mark Meer and a host of fellow comic adventurers.
It's a little disappointing that dragon dice are not actually being used to determine the course of events in the improvised narrative, though, Meer says, "The players did actually roll up their characters' ability scores at my house over beers." Closely guarded secrets, but we can guess that Meer is a ninth level half-elf magic user with plus-5 helm of nerdishness, which helped him score enormous fame in the Geek-o-sphere as the voice of Commander Shepard in the Mass Effect video game series. Of the word nerd or "geek," he adds, "I'm not offended by either term, and self-apply them both."
The message is extended to those attending the show, with an invitation to "get your geek on," which may be redundant in crowd attending a late-night comedy show about Dungeons & Dragons. It runs Saturday night at 11 p.m. Adult tickets are $10 at the door.
Accosted by Kosta
FINALLY, the no-brainer funnyman this weekend is Michael Kosta, playing through Sunday at the Comic Strip. Say what you want about Leno – that he's not funny – but comics don't often get on Leno's show through some fluke. They're usually pretty good.
Culled this line from an aforementioned Leno appearance: "I don't think it makes me gay that I would, one time, sleep with Justin Timberlake … I don't think it makes me gay that I may have made a list of men I want to have sex with."
Kosta does two sets Friday, two Saturday and one at 8 p.m. Sunday. Click here for details.