RESTAURANT REVIEW: Man can live by pho alone – at Thai Binh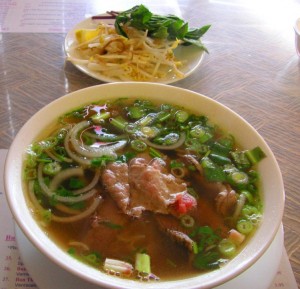 "Is that all you eat – Vietnamese food?"
This question was put to me by a regular reader who has noticed my affection for the cuisine of that particular Southeast Asian nation – my first review for Gig City being for a vegan Vietnamese joint – and while I don't actually eat Vietnamese every day, I have to admit I don't find the idea entirely unappealing. Fact is that since eliminating most logo-bearing convenience foods from my diet, Vietnamese has become my go-to version of fast food – a satisfying meal in a bowl for under $10 that, coincidentally, has some nutritionally redeeming qualities to go with all that flavour.
What's really great is the way Vietnamese restaurants have proliferated throughout Edmonton, so that you're never that far from a bowl of beef noodle soup or hearty noodles. Even the less-than-ubiquitous Vietnamese sub has become more pervasive with the arrival of banh mi shops on Rice Howard Way and Whyte Avenue. So while there's still a high concentration of Vietnamese food around Chinatown – home of the storied Pagolac, where I first fell in love with vermicelli (and some of the best kim chi anywhere) – there some very creditable places dishing out the Viet vittles in more tucked-away locales, such as the delightful Pho & Bun in Forest Heights and my current favourite (for three years running), Thai Binh (11220 – 109 Avenue) in Queen Mary Park. The fact that I first found it immediately following a month in Vietnam and was instantly smitten must say something.
Admittedly it's not that easy to sample Thai Binh's simple but many-splendoured menu – they keep lunch-time hours during the week, aren't even open Wednesdays and only accept cash – but if you can get there when the doors are actually open with currency in hand, you'll  find what I believe to be some of the best pho around.
Pho (that's "fuh" to you, whitey) is Vietnam's national dish eaten any time of day, and not so much a soup as a feat of culinary alchemy the ingredients for which would take some time to enumerate. The formula for the complex, aromatic broth is a usually closely guarded secret and has untold health-promoting (or hangover-alleviating) qualities; the supple rice noodles and sometimes startling array of beef cuts add rib-sticking heft; chopped fresh herbs, green onions and crunchy bean sprouts add a fresh counterpoint; and you can customize your bowl to taste with the provided fresh basil, lemon wedge, bird's eye chili, sriracha hot sauce and sweet, sticky hoisin. Whatever its humble origins, this is no peasant food.
And though Thai Binh isn't oversupplied with ambiance – it's clean, if a little battered-looking, with furnishings salvaged from the '80s, bamboo, accents and art that might have come free with the price of the frames – their pho is nigh-perfect for the above reasons, and priced to move at $7 for a small or $8 for a large (meaning: large enough to wash your feet in). What's more, the friendly, family-owned enterprise runs like a top, with a multiple choice-based ordering system that gets your food in front of you in no time flat.
I used to forego the more suspect expressions of beef (i.e., tripe, tendon, beef balls) inherent to pho in favour of lean slices of raw steak dropped into the soup just before serving. But, after hearing brisket described as "the bacon of beef," I've taken a chance on that fat-rinded, slightly cupreous and flavour-intensive cut and found it much to my liking.
Thai Binh, as per most Vietnamese places, also offers other kinds of soup, including the spicy pork noodle soup known as bun bo hue, as well as vermicelli bowls, rice dishes, a few appetizers and delicious Vietnamese iced coffee served with sweetened condensed milk, sort of like a melted French-roast fudgesicle. But so far as I've found, it's the only place around that has bot chien, wherein chunks of fried rice cake are mixed with scrambled eggs and green onions, and doused with a savoury, vinegar-based sauce. At last, your vegetarian (but not vegan) friends will find something to eat when they join you for pho.