CONCERT UPDATE: Melvins Lite, Red Hot Sell-Out, Sinead No-Show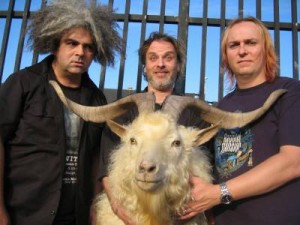 Every year the whirlwind of concert season has its share of good news and bad news – which do you want first?
OK, bad news. Sadly, Sinead O'Connor has bowed out of a scheduled appearance to headline the inaugural Interstellar Rodeo at Hawrelak Park July 27-29. "With enormous regret I must announce that I have to cancel all touring for the year as (I) am very unwell due to bi polar disorder," the singer said in a statement on her website, which has since been taken down and replaced with a blank page. The news comes on the heels of recent reports of disturbing behaviour, including a suicide attempt and a quicky marriage to fourth husband Barry Herridge – followed by a divorce two weeks later. O'Connor, who delivered an excellent show at the Edmonton Folk Music Festival in 1997, reportedly said she wants to back away from the music business and "work a normal job," according to a tweet she sent last month. O'Connor's Twitter account has also since been closed.
The other headliners at the Interstellar Rodeo – Randy Newman, Blue Rodeo, Hawksley Workman and more – will perform as scheduled. Details on another headliner will be announced shortly.
Next, the Red Hot Chili Peppers has sold out its show Nov. 21 at Rexall Place, but that's not really news, is it? Disappointed fans are urged to wait for a few days before the gig. Promoters are always releasing last-minute tickets, depending on sightlines, stage plotting and so on. "Partly obstructed" is better than nothing.
Finally, the Melvins (top) shall return. The hard rock band that helped put Seattle on the musical map in the early '90s – without necessarily reaping the hit potential of more well-known peers like Pearl Jam and Nirvana – will perform Friday, July 13 at the Starlite Room. The band is billed on this tour as "Melvins Lite," indicating its status as a trio instead of the usual quartet. Tickets go on sale Friday.