WEEKEND MUSIC PREVIEW: Folk-punksters lay siege to the Pawn Shop
Posted on April 26, 2012 By Michael Senchuk Music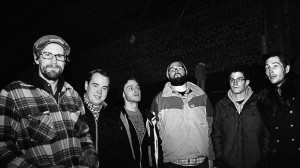 Most of our favourite bands in the city will be somewhere this weekend, with two intense gigs on Sunday night featuring many of the city's best-known acts. On Saturday night, the rest are probably nominated for an Edmonton Music Award, with several notable local acts also performing during the awards ceremony at the Royal Alberta Museum Theatre.
Friday
Mitchmatic – Sonic's Band of the Month Showcase features this hip hop-fusion artist. Definitely one of the radio station's most eclectic choices, but also a local favorite for some time. Sugar Glider and Third Branch also perform. Pawn Shop, 8 pm, $10.
Saturday
S.I.R.E.N.S. Fundraiser – Avenue Theatre hosts this massive charity event, with doors opening at 1:30, and live music going until 2 am. Some of the performers include The Give 'Em Hell Boys, Whiskey Wagon, Kurt West Express, Living Daylights, The Moanin' After, and Shelley Foss (S.I.R.E.N.S. is a charity dedicated to improving the lives of aboriginal youth and the mentally ill in Edmonton). $15 at the door
Edmonton Music Awards – The second annual EMA's will be handed out at Royal Alberta Museum Theatre this Saturday; Citytv's Bridget Ryan (top picture) hosts, and the evening will include a cadre of live performances from the like of Tupelo Honey, Collective West, and Bryan Finley, among others. 6 pm, $25.
Darlene Olson – This country artist hailing from Northern Alberta is set to release a new album, and will be performing, along with Randy Smith and Shannon Souray, at the Haven Social Club. 7 pm, $12.
Sunday
Audio/Rocketry (above) – A trio of well-known local bands lay siege to the Pawn Shop, as these folk-punksters are joined by Fire Next Time and Owls By Nature. 8 pm, $10.
Diehatzu Hijets – As if that wasn't enough, most of the other best-known bands in the city are playing down the road, at the Wunderbar, as the Hijets are joined by Wildrose Orchestra, Strugglefucks, and Action News Team. 7 pm, $5.