FOOD: Shawarma is superb at Dahlia's Mediterranean Bistro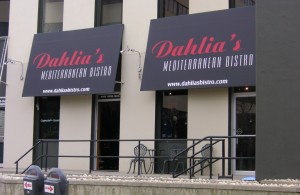 Seems like just yesterday that Montreal expat Fadi Smaidi, scion of a Lebanese food dynasty in Canada's coolest city, opened Dahlia's Mediterranean Bistro (10235 124 St.), named for his young daughter on Edmonton's yet-to-be coolest street, 124th. The reasons for Smaidi's pilgrimage to this particular northern waste are obscure to me but now, three years on, I'm still glad he made the trip. Sure, there are loads of Levantine-influenced eateries of varying authenticity dotted all over the River City, but not all of them have the clean, bright charm of Dahlia's, and almost none of them have real Montreal smoked meat.
Dahlia's was recently touted by a glossy, ad-intensive local lifestyle magazine of note for the quality of its falafel. For my money, though, the best reason to visit Dahlia's is what I consider their Perfect Lunch: a cup of the housemade lentil soup ($3) and their superb chicken shawarma ($7.45).
It's true, you never really know what you're getting into when you order shawarma. Will you get what's actually shish taouk – cubes of charbroiled chicken – or some crusty chicken donair variant? Will it have the marinade and aromatic spices that make shawarma shawarma, will it be soaked in sweet sauce, emburdened with onions, will it have a few surreptitious fried potatoes tucked into it? Hummus? The potent garlic-smashed-with-oil preparation known as toum? And what about those unusual Lebanese pickles that sometimes find their way into these things? You pays your money, you takes your chances.
First things first, however – that lentil soup. As a longtime fan of this particular soup-form, I've always credited the Moroccans with the tastiest, velvetiest version, often enlivened with turmeric and cinnamon. Smaidi's lentil soup is less ostentatious off the bat, subtly flavoured with pepper and lemon, but there's a sort of stealth creaminess to those simmered pulses that I think comes from the addition of rice, which lends a starchy smoothness to the proceedings.
Onto the main event: Dahlia's chicken shawarma is an ample helping of marinated white meat with a hint of vinegar about it, diced tomatoes, lettuce, pickled turnip (if you had ever wondered what those magenta things were) and garlic sauce bundled up and a grilled in a pita. If you have the intestinal fortitude, they will happily include free of charge a stiff dose of hot sauce ("The one with the hen on it," according to the Aussie barista who served me, even though everyone knows that's a rooster), which enhances the experience considerably, though may cause you to pop a few beads of sweat as the intensity accumulates with each savoury bite. Although I've enumerated the constituent ingredients above, it's the way the flavours all blend – plus the lightly crisped grilled pita shell – that seems irreproducible in most other shawarma-vending establishments. I have too many other beloved Lebanese eateries in town to dub Dahlia's the unparalleled best – don't make me choose! – but I will say that if Smaidi sees fit to stick around Edmonton and keep dishing it out, I will be happy to take it.