City of Edmonton Archives launches online exhibit with Ella May Walker

Wilfred Walker, son of the late Edmonton artist, author, musician and conservationist Ella May Walker, offered up a revealing detail about his mother as he addressed a recent gathering at the Prince of Wales Armoury that officially opened an online archive exhibit about her.
"There was a nudist colony on Lake Wabamun," Walker began. "Our climate isn't particularly good for that."
Many of the people in the audience already knew about Ella Walker's clothing-optional tendencies. As archivists, they had heard stories, like the one about the sauna outside the family's Garneau home, and how Walker used to enter and leave it au natural. Her son didn't go any further on the subject. Even though Ella May Walker died more than 50 years ago, it was his mother he was talking about, after all …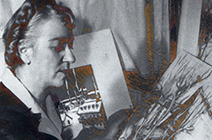 The virtual exhibit – the city's first to be online – doesn't delve into nudism. But it does provide a trove of biographical information about Walker, examples of her paintings of Edmonton scenes, the manuscript of her novel, and even the blueprints for the Allen Theatre on Jasper Avenue (later The Capitol) where she played the organ for silent movies.
It may seem strange that the city archive is only just now putting exhibits online considering we live in an age where even aging classic rock stars are capable of Tweeting what they ate for breakfast, but city archivist Kathryn Ivany says it wasn't an easy job.
"This amount of content and the intricacies wasn't something we could do on the city website before," she explains.
Walker was selected to be the first online exhibit because of her involvement in local heritage conservation, and also because the opening of the online exhibit also coincides with the exhibit "Mistresses of the Modern: 1935-1975" at the Art Gallery of Alberta, where you can go until June 3 and see some of Walker's paintings in person.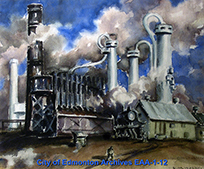 "Considering her role in the archive's history and her presence in the Edmonton community, Walker is an excellent choice for our first virtual exhibit," Ivany says. Walker will also be recognized in May as part of the University of Alberta Faculty of Extension's 100th anniversary celebrations.
Born in Minnesota in 1892, Ella Jacoby studied art at the Chicago Institute of Art and music at the Northwestern University School of Music. (She gave herself her own middle name, May.) After that, she studied at the University of Saskatchewan, where she met and married Osman Walker, who accepted a position in the chemistry department at the University of Alberta in 1920.
While Walker was actively involved in the Edmonton arts and music scene, teaching piano, playing organ, and helping stage theatrical productions, it wasn't until the 1930s when she met Group of Seven painter Arthur Lismer that she focused on art, including painting and sculpting. Her art and her historical work at the time were intertwined. She painted pictures of historic buildings or scenes, wrote articles about them for newspapers as well as a novel "Fortress North," and then promoted them all with shows. In 1948, Edmonton city council appointed her to the Archives and Landmark Committee.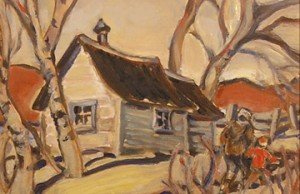 Walker's historic paintings and sculpture sometimes depicted historic events and figures from Edmonton and Western Canada's past, like a painting of Father Lacombe's arrival at Fort Edmonton at Christmas, 1858, and busts of Chief Poundmaker and Big Bear. There are also paintings that depict a prairie fire threatening settlers' homes, and a ferry crossing of the North Saskatchewan River.
Contemporary at the time and now historic, one painting shows smoke billowing from an oil refinery, another a propeller airplane at the Municipal Airport.
The online exhibit quotes an article written about a talk Walker gave to the South Side Rotary Club, where she is reported to have "told of the need for creating interest in preserving the tangible aspects of the city's early days."
Wilfred Walker says, "Ella May was monumental in my life and for many around her. I am so delighted to see her work displayed in such a way for Edmontonians to enjoy once again."
The Walker exhibit is the first of many online exhibits to come. The next, which will take about a year to prepare, will focus on a shanty town that existed at the former Grierson Dump in the 1930s. Ivany says the area residents used to recycle material from the dump, and she says city archivists got the idea to research it from an unlikely place – the Occupy Movement.
"It wasn't the first time something like this happened," Ivany says.