Zerbin, Tupelo Honey double winners at Edmonton Music Awards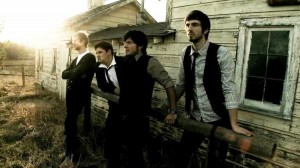 Let's get this out of the way: People are going to complain about the Edmonton Music Awards – this year's crop of winners including Tupelo Honey, Zerbin and people's choice selection Killinger, as revealed in the second annual awards ceremony Saturday night. Haters are going to mutter that the EMAs do not accurately represent the scene. Cries of "nepotiz!" may echo from overlooked pockets, as happens with any similar enterprise in any genre of arts in any tight-knit arts community like Edmonton.
But at least SOMEBODY is doing SOMETHING to promote the scene as a whole. Like they say about voting in elections: You have no right to complain if you don't join in. That's enough of that …
In awards presented at the Royal Alberta Museum Theatre, Tupelo Honey – Edmonton's next Nickelback – scored both the album of the year and rock album of the year trophies for Caught Up in the Excess, an album replete with crisp, blood-pumping rock 'n' roll anthems. They should go far.
In the group of the year category, another radio-friendly fivesome collected the hardware: Ten Second Epic, on the strength of its third album, Better Off, and the mid-tempo title-track single therein, whose video – like the music of Tupelo Honey – has associations with hockey. Single of the year was bestowed upon a relative newcomer, folk-rock group Zerbin (above) – as in singer-songwriter Jason Zerbin – for its upbeat, expansive, Arcade Fire-like single New Earth. The song was also named best video for a clever, semi-animated rendering of same. Colleen Brown was named female artist and Scott Cook male artist, of the year. Full winner's list below.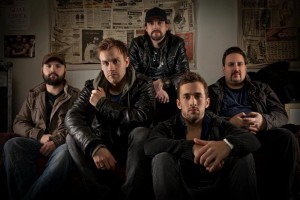 Some award winners also performed at the ceremony – including Tupelo Honey – which was hosted by Citytv's Bridget Ryan.
In two cases, awards were determined by a public vote. People's choice went to Killinger, which is more of an '80s hard rock throwback band, while the "artist to watch" (for an artist expected to release an eligible recording in the coming year) was was awarded an energetic young rock band known only as Shelbi.
The rest of the winners were decided by members of the Edmonton Association for Recording Selection (EARS), which also selected the nominees from more than 80 submissions who had eligible recordings released in 2011. Anyone who is active in the local music scene is eligible to be an EARS member; membership is $10 per year.
The Edmonton Music Awards was created in 2011 by local musician and artist manager Danny Fournier.
Winners List:
Album – Tupelo Honey: Caught Up In The Excess
Single – Zerbin: New Earth
Group – Ten Second Epic
People's Choice – Killinger
Artist to Watch – Shelbi
Female Artist – Colleen Brown
Male Artist – Scott Cook
Music Video – Zerbin: New Earth
Rock Album – Tupelo Honey: Caught Up In The Excess
Pop Album – Radio For Help: Make Today
Rap/Hip Hop Album – The Joe: Float Or Fail
Country Album – Danielle Lowe: Off Limits
Roots/Folk Album – 100 Mile House: Hollow Ponds
Metal Album – The Order Of Chaos: Burn These Dreams
Blues Album – Boogie Patrol: I Try And I Try And I Don't Know What To Do…The Plan Was Set Some Time Ago, And We Must Follow Through.
Jazz Album – Mieke Maligne: Just The Sun
R&B/Soul Album – Manuela: The Golden Story EP