Tedeschi Trucks Band to play Jubilee Auditorium June 22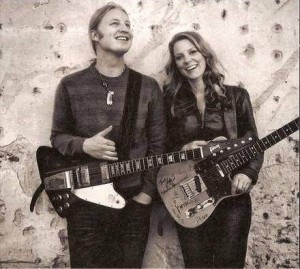 Holy hot Texas tamale! Not since Steve Earle shacked up with that redhead firebrand Allison Moorer has there been such a power music couple as seen in the Tedeschi Trucks Band.
Featuring Susan Tedeschi and Derek Trucks, both formidable modern blues stars in their own right, The Tedeshi Trucks Band plays Friday, June 22 at the Jubilee Auditorium. Tickets go on sale Friday.
Honoured for Best Blues Album at the recent Grammy Awards, TTB comes with an 11-piece band well-versed in delta blues, rock, funk, gospel, jazz, world music and anything else you'd care to name because it all goes into the band's fiery concoction of music. Trucks, a longtime member of the Allman Brothers Band, was named No. 81 in the Rolling Stone magazine's 100 Greatest Guitarists of all Time – just below Robbie Robertson and just above Neil Young. The Bonnie Raitt-like Tedeschi, meanwhile, has been nominated for five Grammy awards, and was a highlight of the 2006 Edmonton folk festival. Trucks and Tedeschi married in 2001, formed their band in 2010.
Following the success of the aforementioned Best Blues Album, Revelator, the band will release a live album May 22, Everybody's Talkin'. Apt title.