WHO NAMED THE BAND: Thornley can't escape Big Wreck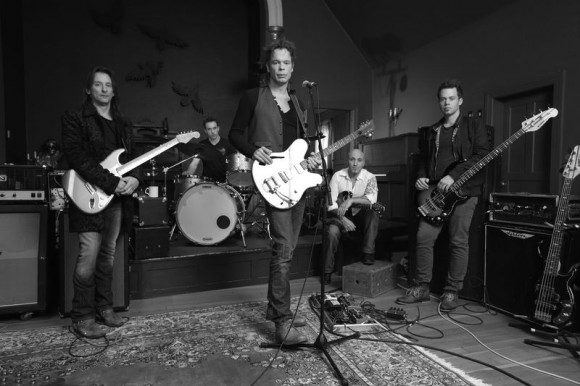 Naming a band is like branding a cow.
The band cringes at the process, but once done, there's just a scar. The cow, or band, as the case may be, eventually doesn't even notice its brand, which loses any original meaning beyond conferring identity and ownership.
"It's just the name of the band, man!" say all rock musicians when asked about their band names. Cows were not available for comment.
Sure, go ahead and try to get rid of it. It's not going to do you much good if you've already been famous. Ian Thornley found this out when he broke up Big Wreck in 2002 and continued in a band he called Thornley for lack of a better new name. One could still clearly see, well, hear, the original Big Wreck brand underneath. And now he's back with his original partner and mutual muse Brian Doherty, successful, so far, in recapturing the mojo they developed as students at the Berkelee College of Music in Boston. The reformed and freshly rebranded Big Wreck plays the Edmonton Event Centre Friday night. They're touring behind the new album Albatross and the hit single therein, also called Albatross. Who named the song from the Rime of the Ancient Mariner?
"The Coleridge thing is apparently not as popular an expression as I originally thought," Thornley says. "But it's not like an old Rush record or anything."
The song is actually Big Wreck's first No. 1 rock single, proving – among other things – that rock fans love reunions.
Thornley never really planned it. He says he was just making another Thornley record – having called Doherty in to bury the hatchet and work together again after almost eight years of estrangement (long story, and he's not going to tell it) – when someone remarked, "It really has a Big Wreck sound."
Oddly enough, it never occurred to Thornley before. "I was never really aware of it," he says. "I just thought it was a different focus for what I was doing."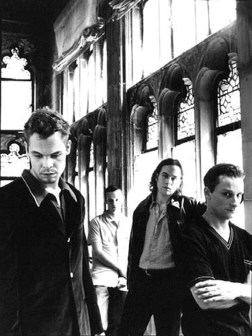 This focus, fostered by his relationship with Doherty, is crucial to Big Wreck, the singer found out. He recalls their time at Berklee, "We'd sit around and think, wouldn't be cool if we could make the sound of a band we wanted to hear?" Sounds simple. They played a few shows around Boston under the name Still Waters (no relation to fictitious band Stillwater in Almost Famous), "which didn't really fit," says Thornley, and he's right. He figures that Doherty, who was from New York and had many "New York expressions," probably came up with the band name since he often used the phrase to refer to "something going awry." Musicians are always noticing odd words or phrases as a great name for a band. Unless acted on immediately, most are mysteriously forgotten. This time it came out at the right time -and the soon-to-be-former members of Still Waters exclaimed, "Big Wreck! Dude, that's the name of the band!" A week of pondering and it was done. Once The Oaf hit radio in 1997, there was no turning back.
So in more ways than one, Big Wreck wouldn't exist without Doherty, though Thornley gets all the attention as the singer, songwriter and lead guitarist.
Thornley says, "A lot of it is his influence on me, as much as it is his playing, his riffs. It's the way I play when I play with him. It puts me in a certain headspace. I missed the guitar interplay. I missed the feeling of writing whatever you want, as opposed to, oh, man, we have to run this by the A&R sieve and see if it holds up. Too many big words, too many chords  – oh, this chord even has a number in it. Not going to work. I missed saying: Fuck them – we're going to do what we do."
Thornley got the chance when he "finally" got out of a deal with 604 Records, Chad Kroeger's imprint, whose hit-making potential is widely known. "Not to slag them, because they've had a lot of success with that, but that suit never quite fit me."
Thornley is resigned to the possibility he might not ever become a rock superstar – "If I'm going to be a broke, struggling musician just scraping by, I'd rather be doing it with music can stand by, not something that feels compromised and that I'm not 100 per cent proud of. We knew how we wanted it to feel more than how we wanted it to sound. We wanted it to feel like a band. I didn't want to hear any computers, just sticks on skins, fingers on strings, just musicians making music."
Then again, Big Wreck is on the rise again – proving, among other things, that with so many different agendas and paths to success in show business, the best way of all is to set your own agenda. Thornley says he's a bit surprised Albatross is such a hit – it is actually Big Wreck's first song to hit No. 1 on the Canadian rock charts – considering it doesn't fit the rock radio status quo: "There are two slide solos in the song," he says, "And I don't even start singing until a minute into it."
Don't be surprised if some of the songs at the show get stretched to 15 minutes or more, either. It's been known to happen – with Big Wreck.