The Steadies a band on the rebound for Wide Mouth Mason bassist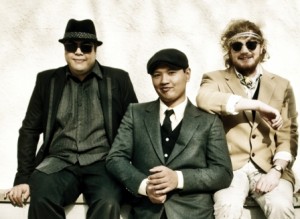 If being in a rock band is like a marriage, it follows that a band break-up is the ugly divorce. Who gets the money? Who gets custody of the kids? How did our love come to this? It can be just as painful as any relationship gone awry.
"Having to leave Wide Mouth Mason was pretty devastating – I felt like part of me was taken away," says Earl Pereira, singer-bassist for the Steadies, his new full-time Saskatoon power trio. They play the Pawn Shop Friday night. It's been two years since he left WMM, with Big Sugar's Gordie Johnson filling in on bass, and Pereira says he still has trouble talking about it. He'd run into mutual friends and "it wasn't a happy hello. They'd say, 'you don't have to talk about it if you don't want to.'"
He can't even bring himself to see the old band.
Last time through town opening for Big Sugar, there was something amiss with Wide Mouth Mason. Without Pereira, the band – especially singer-guitarist Shaun Verreault – seemed to be striving too hard to be too cool, uncorking too many blistering solos. (A riot of disruptive hairstyles and pretentious hats was just a symptom of the entire evening of being too cool for its own good, although the guys in the Steadies sport natty headgear, too. More study on the hat-rock relationship is needed.)
Bands break up, musicians move on and new bands are reconstituted "from the ashes" of other relationships all the time. But the trail of broken hearts is quite real. Fans can be just as bummed out.
"I don't want to make it seem like it was so easy to go do this – because it wasn't," Pereira says. "Fans are like kids, in a way, and I know how much people thought we were a real band, not with someone who could be replaced – easily."
Johnson, who produced Wide Mouth Mason before he joined them, tried to act as marriage counsellor, but differences were apparently irreconcilable. Like any marriage happy from the outside, no one has a clue what's really going on inside a band except the band members themselves, and sometimes not even then.
As Pereira tells it, it was a combination of burn-out from being on the road too long (since 1995, off and on, starting with gigs at Blues on Whyte and then the Sidetrack Cafe) and a couple of "bad decisions." Specifically, he says, it was not being willing to step down a level – from tour bus to van – which successful Canadian bands have to do in order to be successful in the U.S. There was some bad timing in there. Drummer Safwan Javed spent six years getting his law degree, and by the time the band was ready to get back at it full time again, The Steadies (formerly known as Mobadass) was a going concern. Pereira made his decision. He wanted to do his own thing, no surprise. He was originally the frontman of a Saskatoon band called Vendetta, which brought in Verreault on guitar when he didn't even sing. When Verreault turned out to be a double Stevie threat (Wonder vocals, Ray Vaughan guitar) and formed Wide Mouth Mason, Pereira took a back-up role. Given the odd time he was given the spotlight in WMM, it was clear he had unrealized potential.
It wasn't just one deal breaker.
"Nobody really knows why – I don't think we even knew why," Pereira says. "It was just at that point in our lives when we had to part ways – and it's sad. There's no bad blood, but at the same time, we're not good. That's what makes it even harder. I can't even explain it to fans. It is a divorce. We're getting a divorce. And it's still ongoing."
Pereira says he always thought WMM would be together forever, "I thought we were going to be the biggest band in the world. That was my thinking the whole time. I never doubted that."
He declares he will put that same passion and dedication into The Steadies – which is trying to do for reggae what Wide Mouth Mason did to the blues. The band has a full-length debut album on the way, with a catchy ska-rock single therein, See You When I Go.
Read into that what you want.